Posted by Robyn Thomas on 16th Mar 2023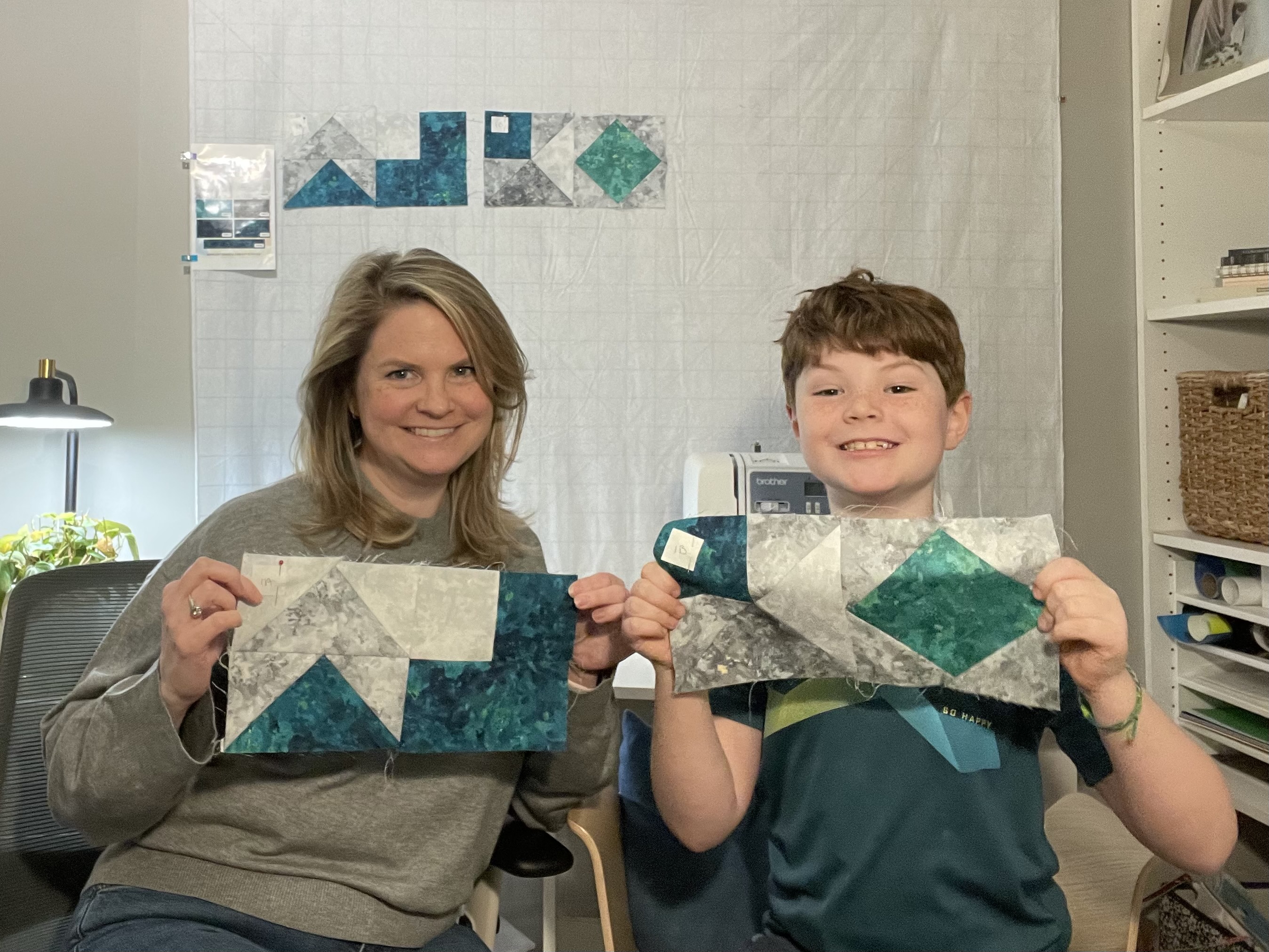 We never tire of inspirational stories about how our Puzzle Mystery Quilt brings together family and friends, whether they sew together on zoom to spend time together though they live far apart, or a mother and daughter who carve out time to sit together and sew. Well, how about a mother and her young son who are tackling our newest PMQ Village Green together?
We are so thrilled to introduce you to Beth Aiuto and her eight year old son, Christopher (Kip).
Together, they are sewing the Cornflower colorway, with fabrics by Northcott.
Beth has been sewing for about a year and a half, and is self-taught through YouTube, blogs, and Instagram Influencers. She decided to try her hand at quilting in order to make a quilt for her sister, who was expecting a baby. Her sister had crocheted beautiful blankets for Beth's kids. And Beth's mother-in-law is a quilter, and convinced her to give it a try. Beth started her Puzzle Mystery Quilt adventure with the Sew Sweet PMQ, recently completing the Churro colorway. Clearly, such creativity runs in the family.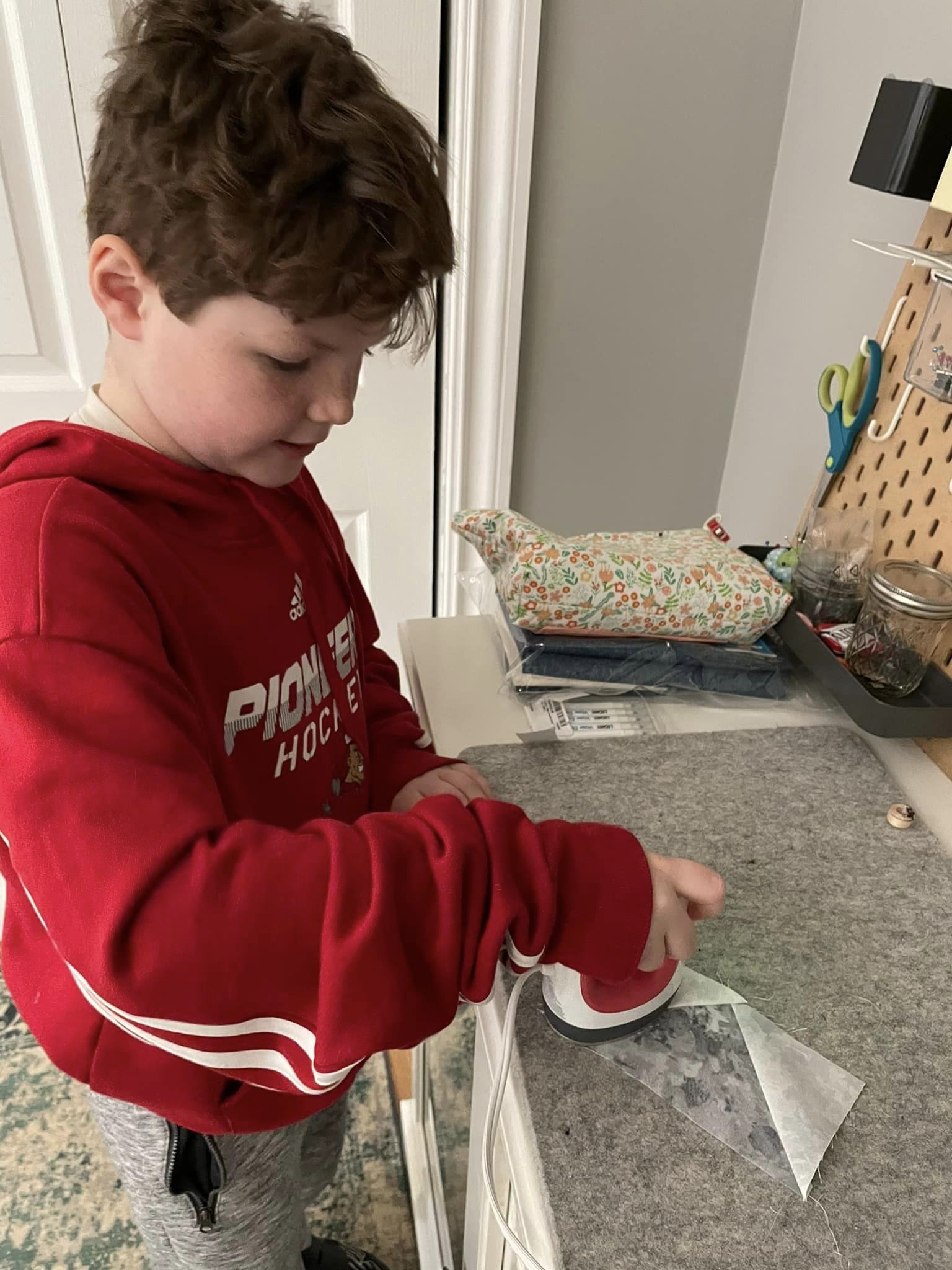 And honestly, who could have imagined her son would take an interest in his mom's new hobby. Suddenly, Kip also wanted to learn to sew. So Beth indulged him and they made a drawstring pouch together. But his interest didn't stop there. He wanted to sew along with mom's new Puzzle Mystery Quilt.
Beth says "Kip is at a unique age where he's really coming into his own and starting to pursue interests that require some independence. He's been showing particular interest in both my husband's and my own hobbies so it didn't surprise me when he asked if he could learn to sew/quilt. We kept it pretty simple at first- I handed him my scrap bin and told him to pick some fabrics out, from there we made a coaster that he "free motion quilted" (aka super wonky lines) and a little drawstring pouch that currently holds his Pokemon cards."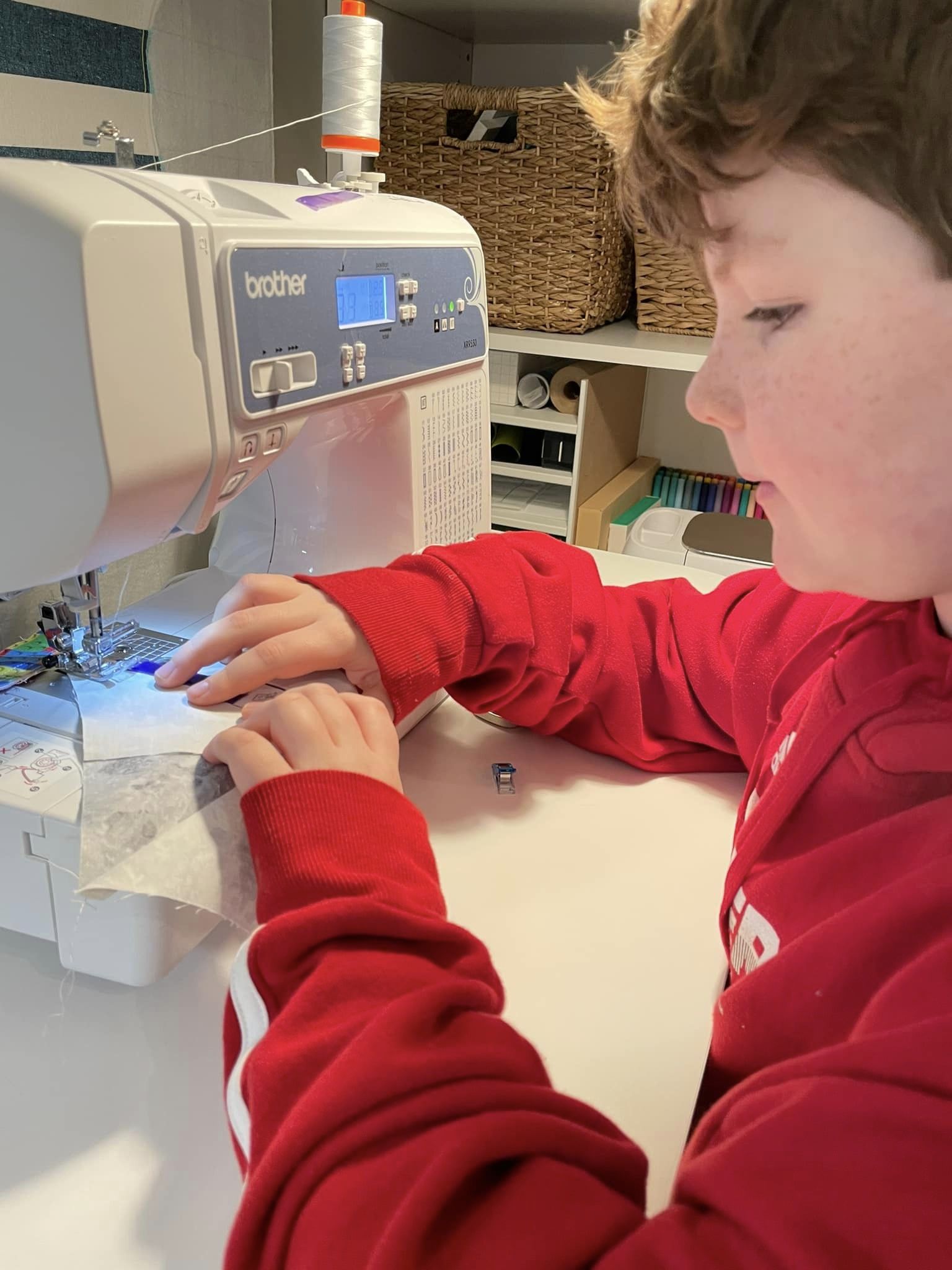 Now Kip is on to assisting his mom with the monthly PMQ. According to Mom, "He LOVES the PQM!! He always checks the mail when he gets off the bus so he was with me when the bright pink envelope arrived. The colors of the Cornflower happen to be both of our favorite shades of blue so he immediately asked if this quilt could be his which is when I decided he was going to make it with me. We're taking it slow, methodically working through the steps, and every night he asks if he can skip his homework to work on it ("No!")."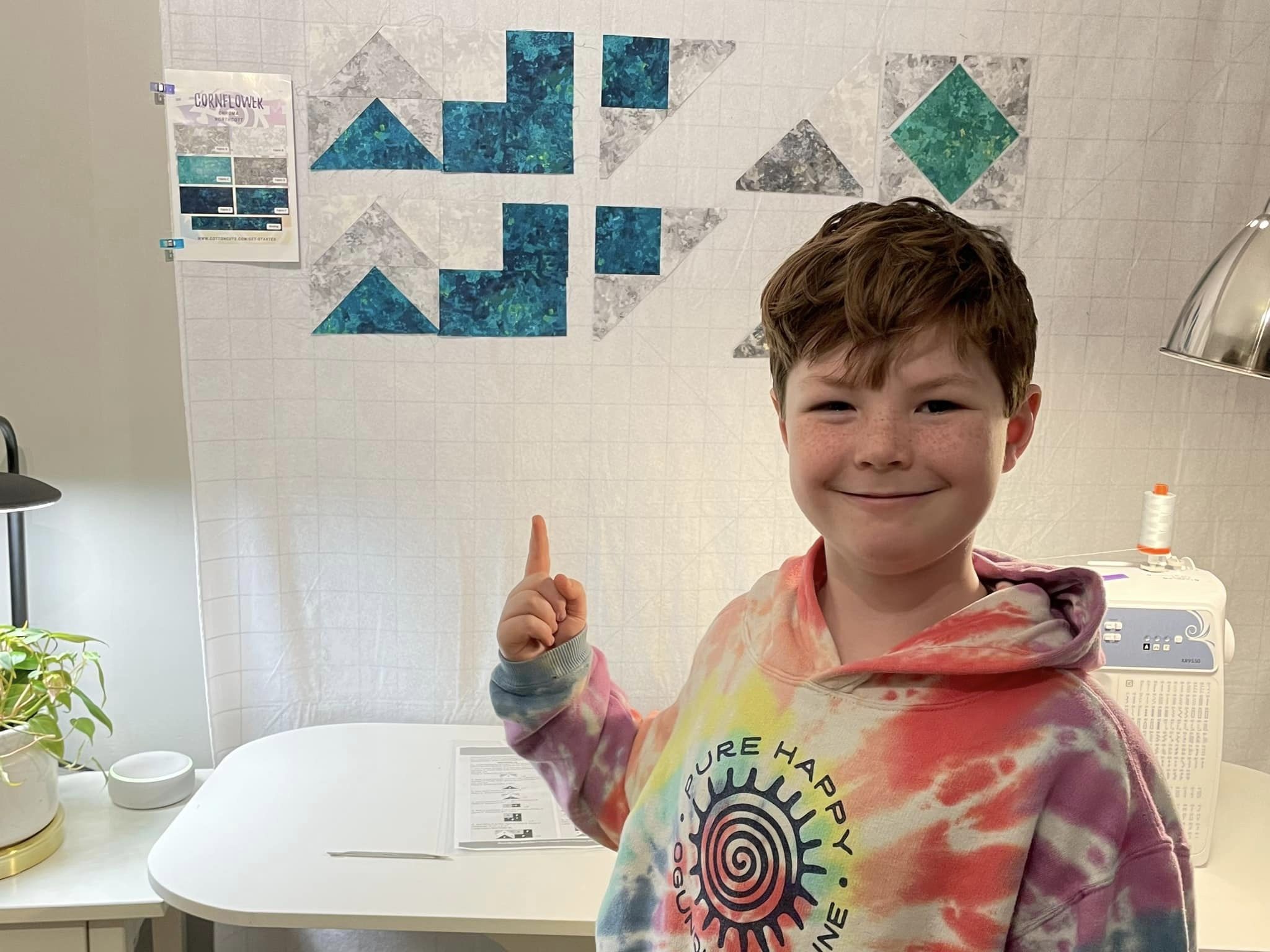 So Beth and Kip have been working together on Village Green, just completing Clue 2. We are looking forward to seeing what Kip might take on next as he learns even more about sewing and quilting. We will check in to see how he is doing.
Our PMQ Piazza is quickly coming to an end and all will be revealed on Friday, April 28th. And with that begins sign-ups for our next PMQ. Look for that information to be revealed right after we finish up Piazza. What a great opportunity to get your kids involved as detectives of their own mystery quilt, just like Kip.