Introducing the Cotton Cuts Family!
Classic & Mini Pop
Fabric customized to YOUR unique preferences
Modern Maker
Exclusive deliveries of NEW modern fabric collections
Puzzle Mystery Quilt
Precut parts and pieces come together to form a beautiful quilt top. Can you solve the mystery?
Mission
Cotton Cuts is on a mission to create jobs. We have partnered with a local workshop that provides dignified employment opportunities to the intellectually challenged and to those with other disabilities. Every Cotton Cuts membership that you purchase contributes toward enriching the lives of these very talented individuals.
Additionally, we take a percentage of your purchase to buy supplies that help our Heart Builders team make quilts for kids in need. Build your stash while feeling good about it!
Are you part of the conversation?
#cottoncuts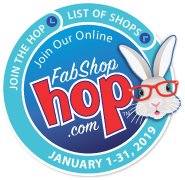 Hint: We would love to JOIN (top of this page) our Puzzle Mystery Quilt (from the pulldown).
Our bunny will be waiting for you.
This program is wildly popular with over 600 detectives participating around the globe. 12 different colorways, everything arrives precut AND FREE SHIPPING. Why don't you join us?