We are SEW excited to introduce our October Featured Designer: Emily Tindall of Homemade Emily Jane! Read on to hear all about Emily and her quilting journey.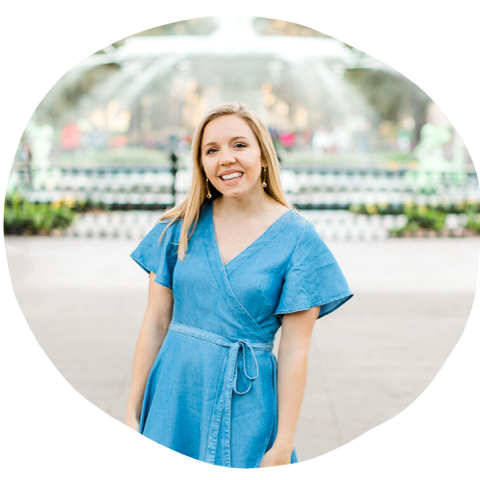 What got me into quilting:
I honestly can't think of a time in my life where I haven't LOVED crafts. Me getting into quilting though, that was just fate.
I'm lucky enough to have multiple creative & crafty family members - particularly my mom, aunts, and grandmas!
But my own personal journey with quilting began when I was In middle school. My mom taught me how to sew. Together we made garments and costumes for the school play!
Somehow during high school, while my friends were off taking Physics and AP Calculus, I was lucky enough to take some really cool classes like "Fabrics & Fibers" and "Fashion Design." By the time that I was 16 I had a pretty good understanding of sewing in general and had my own sewing machine! Now, the real magic happened the summer after my freshman year in college. I was 19 years old, back home for the summer break. I had actually decided a few months earlier to transfer schools (from the University of South Florida to the University of Florida). I was scrolling through Pinterest and came across a photo of a quilt that happened to be Orange and Blue - perfect colors for a Florida Gator quilt! The quilt was classic chevron, which was super popular back then, and was composed entirely out of Half Square Triangles. I had no clue about types of quilt blocks, but I knew exactly who to ask! My Grandma!
My grandma, we call her "Tutu" (pronounced Too Too), was an AVID quilter. She did amazing hand work and lots of really phenomenal Hawaiian quilting too. So after being inspired by the Pinterest photo I mentioned earlier, I packed up my things and drove to Tutu's house for a week-long crash course on quilting!
Tutu taught me how to buy fabric, how to plan the quilt (we didn't have a pattern!) and how to make Half Square Triangles. We worked on it together ALL DAY EVERY DAY until my Twin Bed size quilt top was pieced. And, well, basically I haven't stopped quilting ever since! What I love MOST about quilting is getting to share it with others. I have so much fun learning new techniques and helping other people learn new techniques too!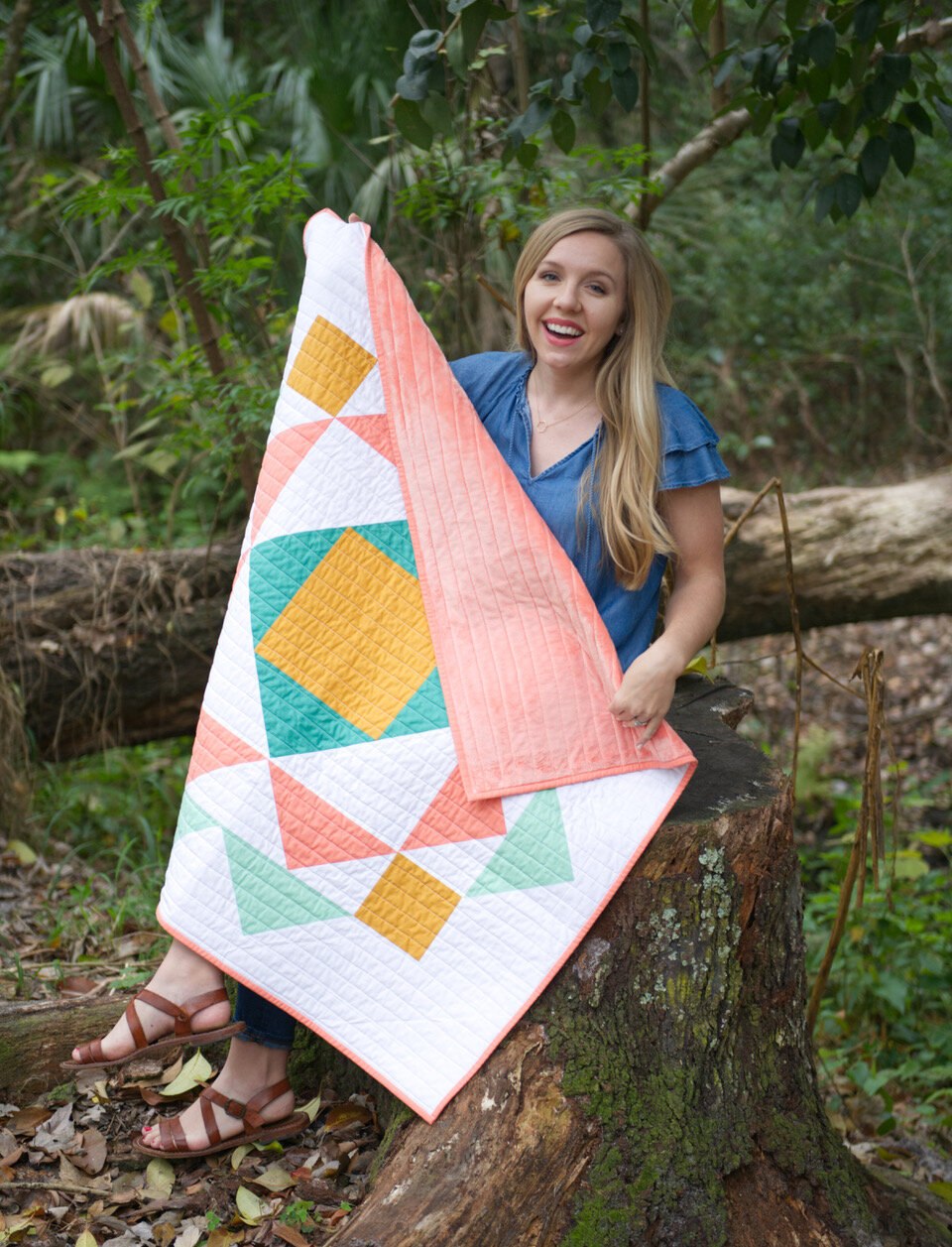 Some fun facts about me:
I've been married to my amazing husband Eric for 3 years, and we have the best fur baby, Beau.
I drink hot tea year-round even though I live in Florida!
Sunrise is my favorite part of the day.
I have a strict bedtime of 9PM.
When I was 12 I was diagnosed with Arthritis.
I studied Event Management for undergrad.
I have a day job as a Data Analyst and I'm more than a little obsessed with spreadsheets.
My parents were both in the Air Force, so I moved around a lot as a kid. The coolest place I lived was Alaska!
Florida is the BEST place to live and I'm never leaving.
I hate reading but love listening to audiobooks.
I'm a certified Yoga instructor.
I use my AccuQuilt fabric cutting machine every chance I get.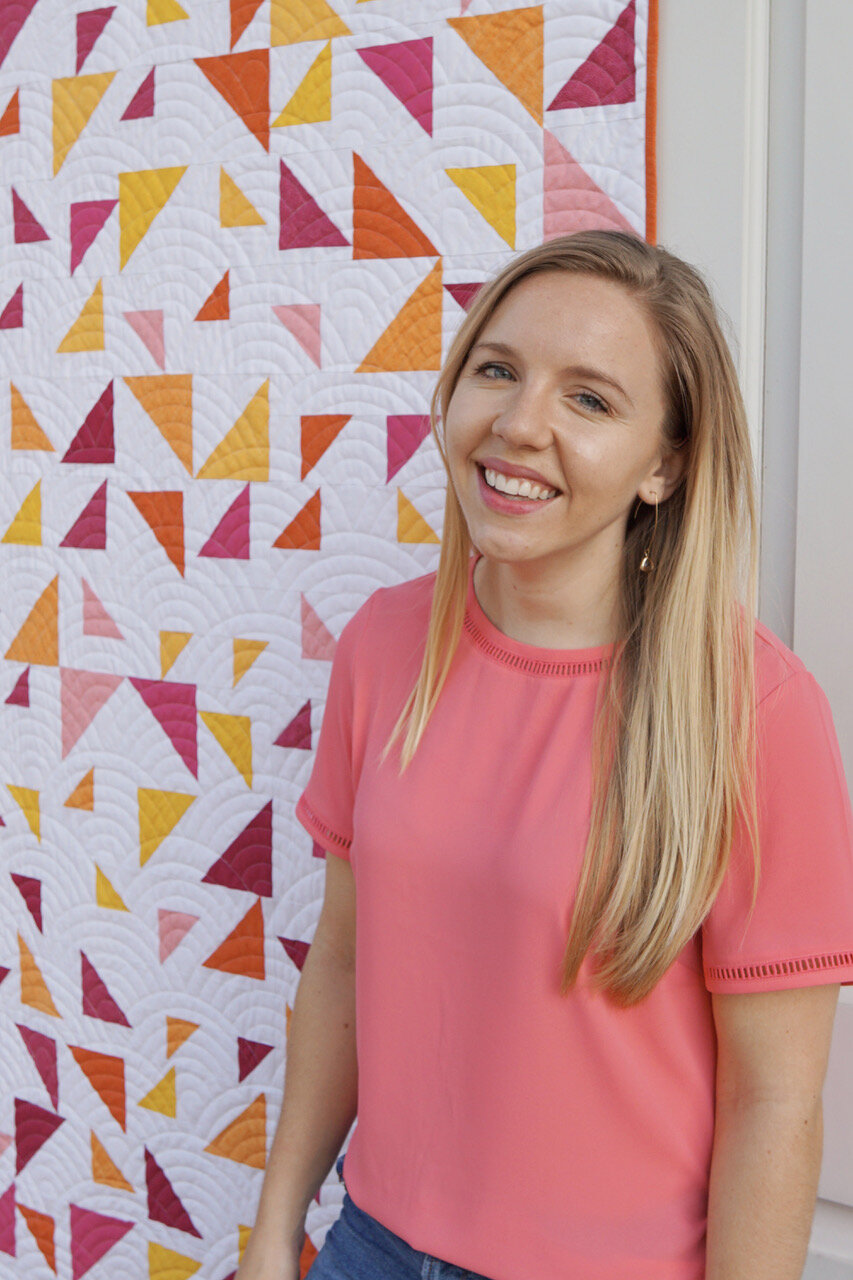 Here's a little bit more about my business journey:
I designed my first ever quilt pattern in the fall of 2019 - the Explore Quilt, which is a free download on my website!
Explore is unique, bold, quick, and fun! It's great for beginners too!
At the time I never really thought much about becoming a "pattern designer" or even really running a business for that matter - but I had a fun creative idea and just wanted to make it happen!
After I initially released Explore, I didn't design another quilt for months.
Fast forward to early 2020, and you find me playing with shapes again in Excel - this was the day Connector was born!
Connector was my first "real" pattern, and the reason I launched my pattern shop! The few months leading up to the launch of Connector was a season of deep growth and learning as I prepared to make the transition of turning my hobby into a business. and honestly, I'm so glad I did! To this day, Connector is still a top-seller and crowd favorite, and one of my own personal favorites too!
Since launching my pattern shop in May 2020, I've now released 9 quilt patterns, and have more in the works!
In addition to sharing my creative designs through quilt patterns, I also teach quilting! I love to educate people through use of my blog and video tutorials on YouTube. Make sure you follow me on YouTube or Instagram!