Posted by Leo Ransom on 31st Oct 2022
Have you ever wanted to take a quilting class at a shop or quilt show? What were your reservations about taking it? Was it the intimidation of being a beginning skilled quilter, the number of students in the class, the fear of trying something new or just plain scared? Before I took my first class, all of these things ran through my mind. Now I think of the "what ifs" of not taking that first class. Today I am going to walk through my experience and I am sure others experience of taking their first quilting class ever,
I joined a guild 11 years ago and thought of myself as maybe an intermediate quilter even though I had never taken any classes and had been doing what I thought was quilting for 14 prior years. When I was in high school, my home economics teacher taught me some about piecing. She was making a quilt for her grandmother which consisted of 5" squares. Nothing difficult at all. So, I thought that I could piece a quilt top and fast forward to 1998. Next I started watching videos and practicing. I felt that I was doing okay. Better than okay, I was doing good. So I felt like I was at least an intermediate quilter. This was my first quilt top. A 3-dimensional "Bow Tie" (thanks to Alex Anderson and Simply Quilts).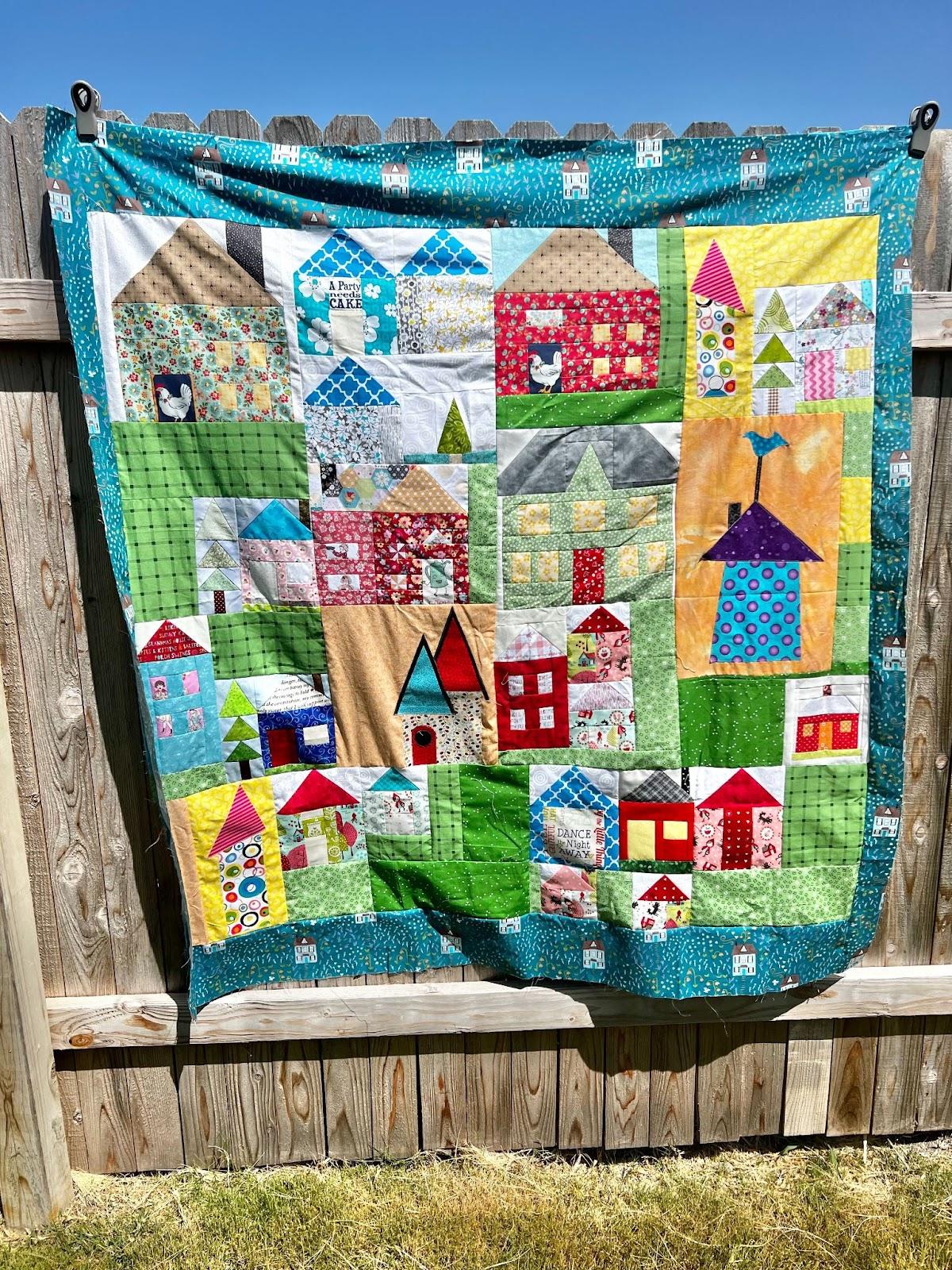 Well, after joining the guild, I started comparing my work to the ladies in the guild and decided that I was still a beginning quilter. So, I decided that I wanted to take some classes and one of the quilts that I had always wanted to make was a "Bargello" quilt, but I was intimidated at the thought and of the work that it must have involved.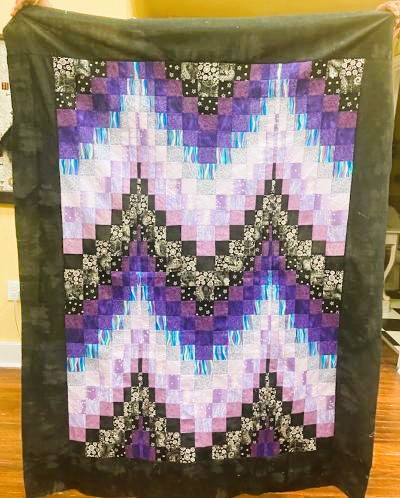 But there was a class being offered to the guild members and one of the ladies talked me into the class. She said you never know what you might learn even if it is only one thing. Also, she stated that it might take the fear out of this particular quilt pattern. And at the least, I could say that I tried and that the pattern just wasn't my cup of tea. I jumped in with both feet into the deep end (See, that is the hardest part, figuring out how deep to jump). Boy, was I scared.
The instructor started explaining the process and my first thought was "Okay, this will determine how good my 1/4" seam allowance is." I wasn't bad on this part.
Next, after sewing all of the strips together into a tube, I had to start cutting them into smaller tubes and breaking them apart and rotating the tubes to form moving strips.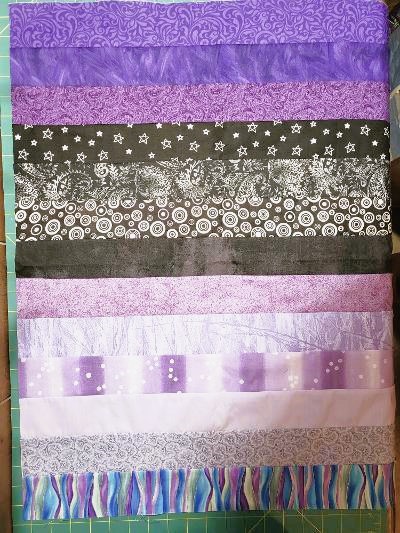 This was definitely a lesson in cutting. I messed up a minimum of 1 time every 12". I laugh about that now.
Next, it is time to start sewing these newly formed and moving strips together. Once again, it gave me practice on that 1/4" seam allowance. Another thing that it taught me was to watch my seams on the bottom sides when sewing. I had to rip so many intersections apart because the underneath seam was going the wrong direction and causing bulk. Once I got the hang of paying attention, next was ironing my seams down and making sure that I didn't have any puckers from sewing the strips together. After working with the first tube, the next five tubes were easy and thus I learned about consistency, paying attention to detail and it all gave me great determination.
I am willing to try any block now which has led me to paper piecing. My newest adventure is the "New York Beauty" quilt sampler. I think I am in love.