Posted by Ian Garland on 26th Dec 2022
Recently I had the opportunity to sew with my friend Becca on the final assembly of the Sew Sweet Puzzle Mystery Quilt. All the other times that I have finished a PMQ I have done it alone. Most of the time because I needed to record the final assembly to create a step-by-step tutorial video. However, this time I wanted to take a different approach. Becca and I agree that we wanted to sew our finial quilts together and we decided to make it a live stream on my YouTube channel. If you would like to check out the 7 hour (yep, you read that correct. 7 hour live stream!) you can click here. Because I had never sewn the PMQ it was a brand new experience that made me realize how awesome it is to spend time socializing and enjoying each others company.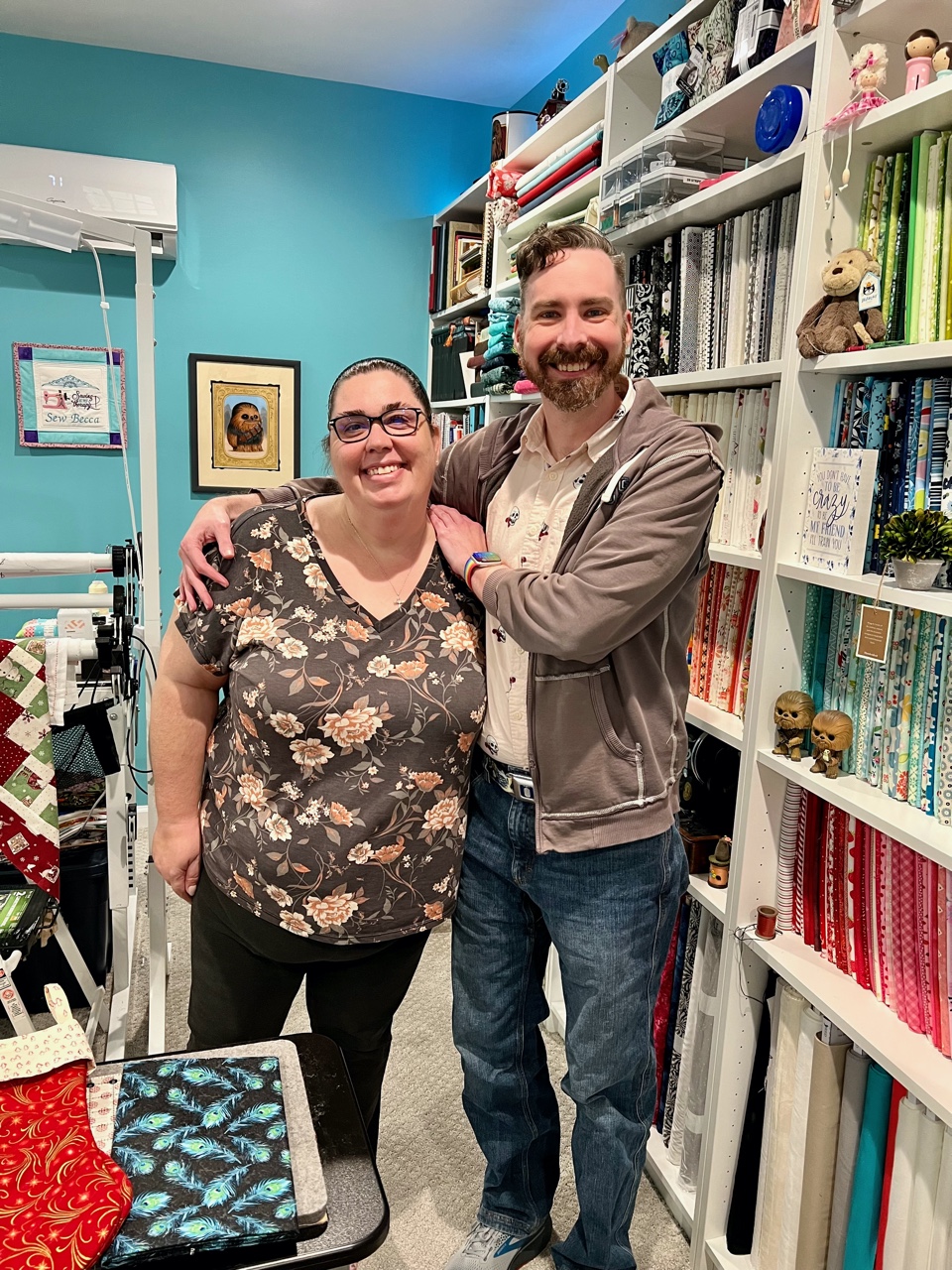 It is so important to spend time with those who are important to us. I know, that seems really deep and kind of a "duh!" statement, but this trip to visit Becca really showed me what I was missing when I put together the final clue on my own in the past. There is so much work that goes on behind the scenes when creating content for YouTube and it is a lot of times a very solitary thing. It feels so strange putting your full energy into a one sided conversation that you are giving into a camera lens. It can be very lonely some times. Becca and I originally thought about doing a live stream over Zoom together, but soon the idea of me coming for Thanksgiving was brought up. That changed the idea from a Zoom to actually sewing in the same space, her amazing quilting/sewing studio.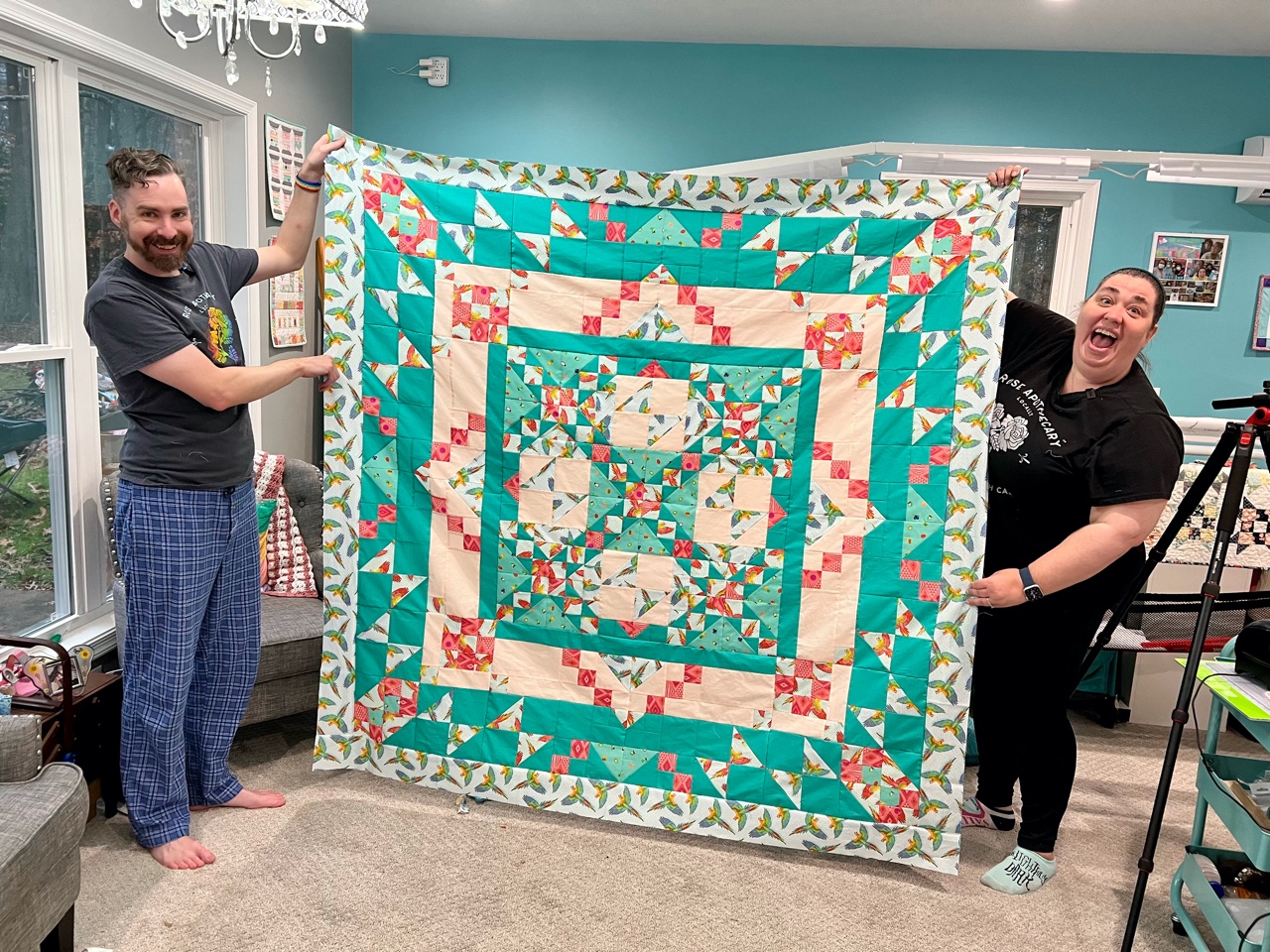 I do realize that most of the time when sewing a PMQ you don't have hundreds of people watching you. However, that wasn't the biggest difference this time. The biggest difference I had was having someone to talk with while doing it. It was a great time for Becca and I social and talk about almost whatever was on our minds. That socializing was a refreshing change from my previous clue tens in the past. I did give instructions as I normally do, but having time to banter back and fourth with not only Becca but those in the live chat was really fun. Spending time with friends or people you care about is so good for the soul. It made the day go by much faster than it would have if I had been doing it alone. It also gave a surprising side effect, I worried less about perfection and cared more about just being happy that we were spending time together. I was very much living in the moment rather than trying to just get it done and move on. My quilt isn't perfect by any stretch of the imagination, but I love it more because it will remind me of the fun time I had with Becca in her studio. That will mean so much more to me than any ribbon at a quilt show.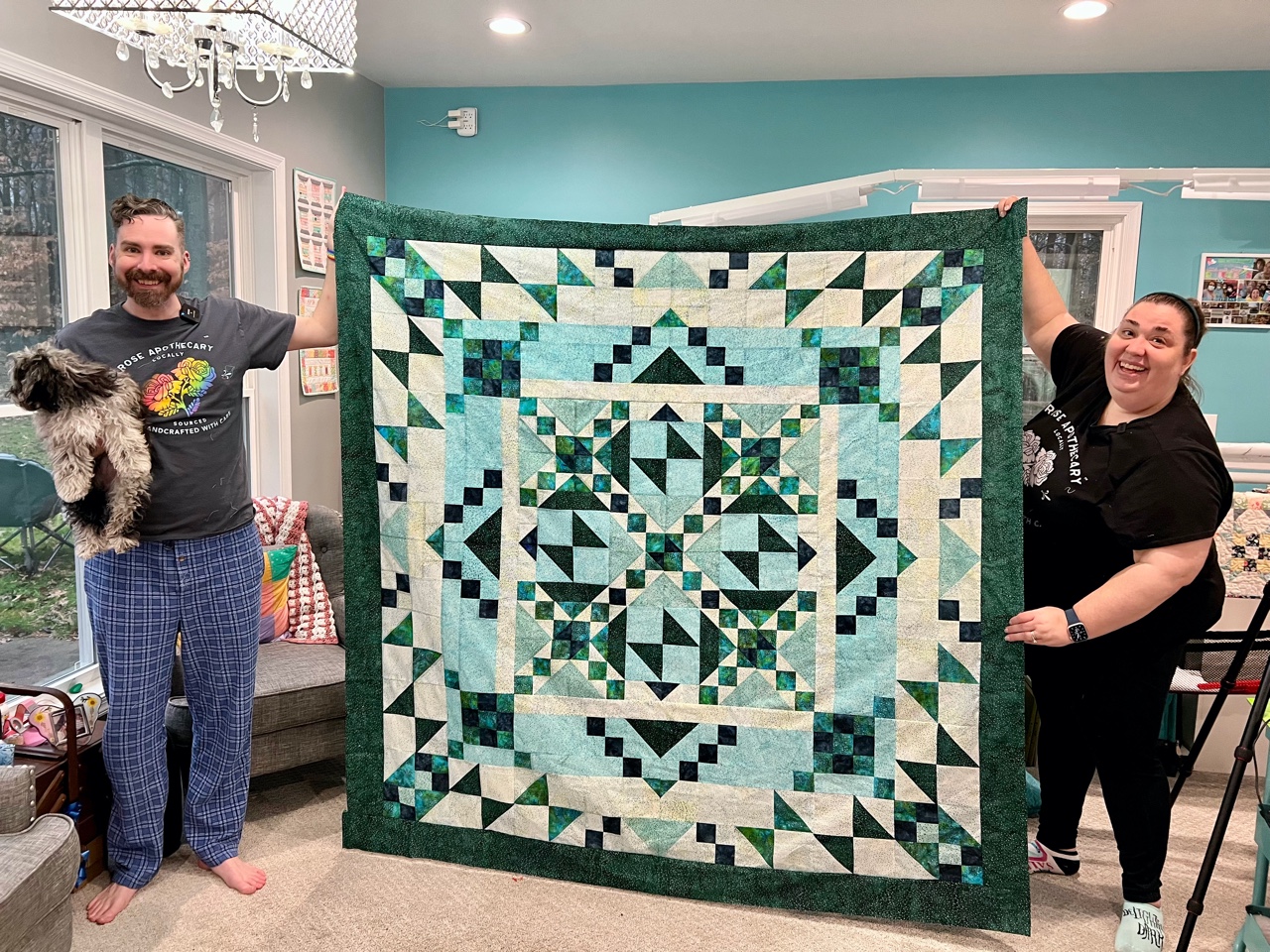 Sometimes it is hard to spend time sewing with friends either due to distance of our friends or how busy lives can get. Technology can make that easier such as using Zoom. It might not seem like it, but even just sewing with friends over Zoom or FaceTime can really give back some of that social aspect of sewing together and socializing. It isn't always the best, but some times it's better than nothing. Though friends may not physically be there it can help bridge the distance. Retreats can also be a great way to gather in one place to spend time together. I have yet to have had the chance to go on a retreat, but I hope at some point I will be able to. I guess the moral of this blog post is make time for sewing with friends. It's good for the soul and a good mental break that can help recharge our "batteries".