Posted by Robyn Thomas on 10th Nov 2022
I have a confession to make- I am not a quilter, or even a sewer. I've been working for Cotton Cuts for almost 15 months, and this information is not something I share very often. A lot of things about this industry are new to me, and every bit of information I can absorb makes it easier and easier to do my job. So when I was asked to join members of the team to travel to Quilt Market, I jumped at the chance.
In case you don't know, Quilt Market is a trade show for wholesalers and quilt shops- It is not open to the public. The International Quilt Festival opens in the same place, just a day later and is open to the public for quilt shows, sales, classes, and more. In addition to a convention room floor full of booths with fabric, quilters, pattern designers, notions and every other quilt accessory you can think of, there is ANOTHER HALF of the space filled with quilts of all shapes sizes, colors and themes on display for us all to "ooh and ahh" over. This was all new to me as I was navigating through my first time as a participant.

Already feeling behind, I traveled with my coworkers, Kim (Cotton Cuts Founder), Ali and Jessica. These ladies are talented quilters and certainly know more than I do. Within our small group, yes, I felt like a fish out of water. But then arriving at Quilt Market, I quickly realized I was about to be overwhelmed with new information and taken out of my comfort zone repeatedly for the next three days. My goal was to pay attention, take a ton of notes, and try to absorb everything so I could return to St. Louis with the tools I needed to do my job even better and be a part of the team that propels this company forward.
Quilts are an amazing artform, this I already knew. My grandmother and great-grandmother were quilters, I even have their quilts hanging on my walls. But I'll be honest, the last time I had sat at a sewing machine was in 7th grade when I was assigned to sew a ridiculously simple shirt, yet chose the wrong fabric, wrong color, and had a terrible time working my way through a pattern. I threw it away as soon as it was graded, which isn't much of a confidence builder. Flash forward to 2021 and I find myself working for a quilting and fabric business, surrounded by talented sewers who highlight our week by bringing in their own creations to share. It's only a matter of time before I am sewing my own Puzzle Mystery Quilt and learning from these talented ladies.
So what did I learn at Quilt Market?
The quilting industry is massive. You could spend all day, each day, at the market and likely not see everything.
The first day we decided to divide and conquer the "Schoolhouse" portion of the weekend. A variety of artists in the industry were invited to speak to the attendees throughout the day. We reviewed the schedule, developed a plan, and off I went to attend about 8-9 seminars, each lasting 20-30 minutes, from mid-morning until after 5:00 pm. I listened to pattern designers, social media managers, authors, and business owners. Nothing like jumping in with both feet! But, I did get to see a few people in the industry I have already worked with. I sat in on Heidi Pridemore's presentation, and also got to see Laura Piland of Slice of Pi, as she showed off her latest work. I loved seeing how the same pattern created with different fabrics and colors can completely change the look of the quilt in the end, how amazing!
The first evening of the market, there is a Sample Spree. Basically, you line up in the hallway for up to two hours so that you can RUN into the sale and grab up fabric and merchandise from sellers. Have you ever seen the running of the brides, where they run to claim their favorite designer dress at wholesale prices? Those brides have NOTHING on these quilting ladies. There is running, pushing, shoving, elbowing and toe-stepping in an effort to purchase whatever is out for sale. And you can't even grab up all of it if you get there first. It is one per customer. I rushed in, and death-gripped the fabric we were interested in, and made purchases around the room. The room had been pretty much cleared out in less than 15 minutes. Let's just say, whether it is brides, or sewers, do not get in the way of women on a mission.
I got my picture taken with Tula Pink, and had a conversation with Kaffe. I am still learning that this is a big deal in the quilting world. I have been told by multiple people that they are insanely jealous.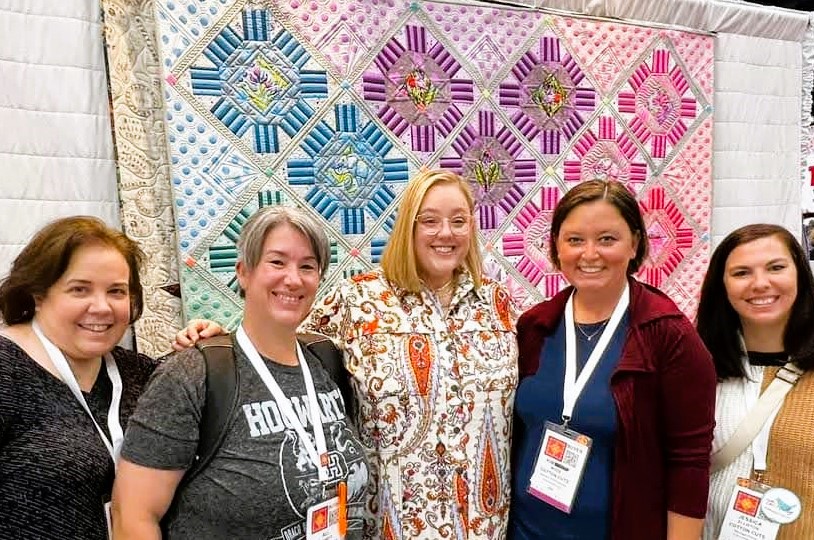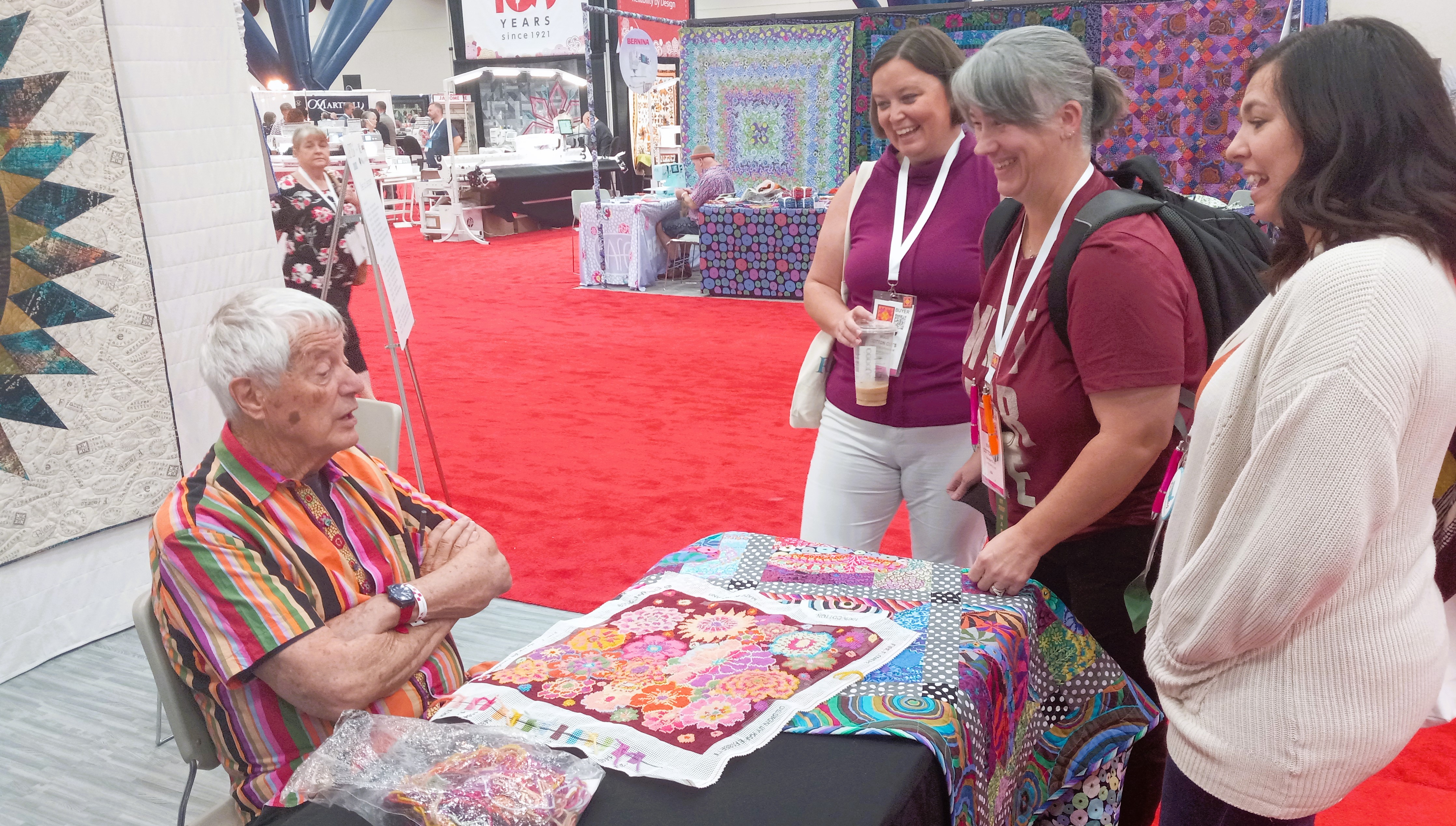 I found the world's tiniest iron- prior to working for Cotton Cuts, I would have laughed out loud at this iron, wondering what in the heck it could possibly be used for. But now, it looks perfectly reasonable and likely a useful tool for pressing those tiny seams.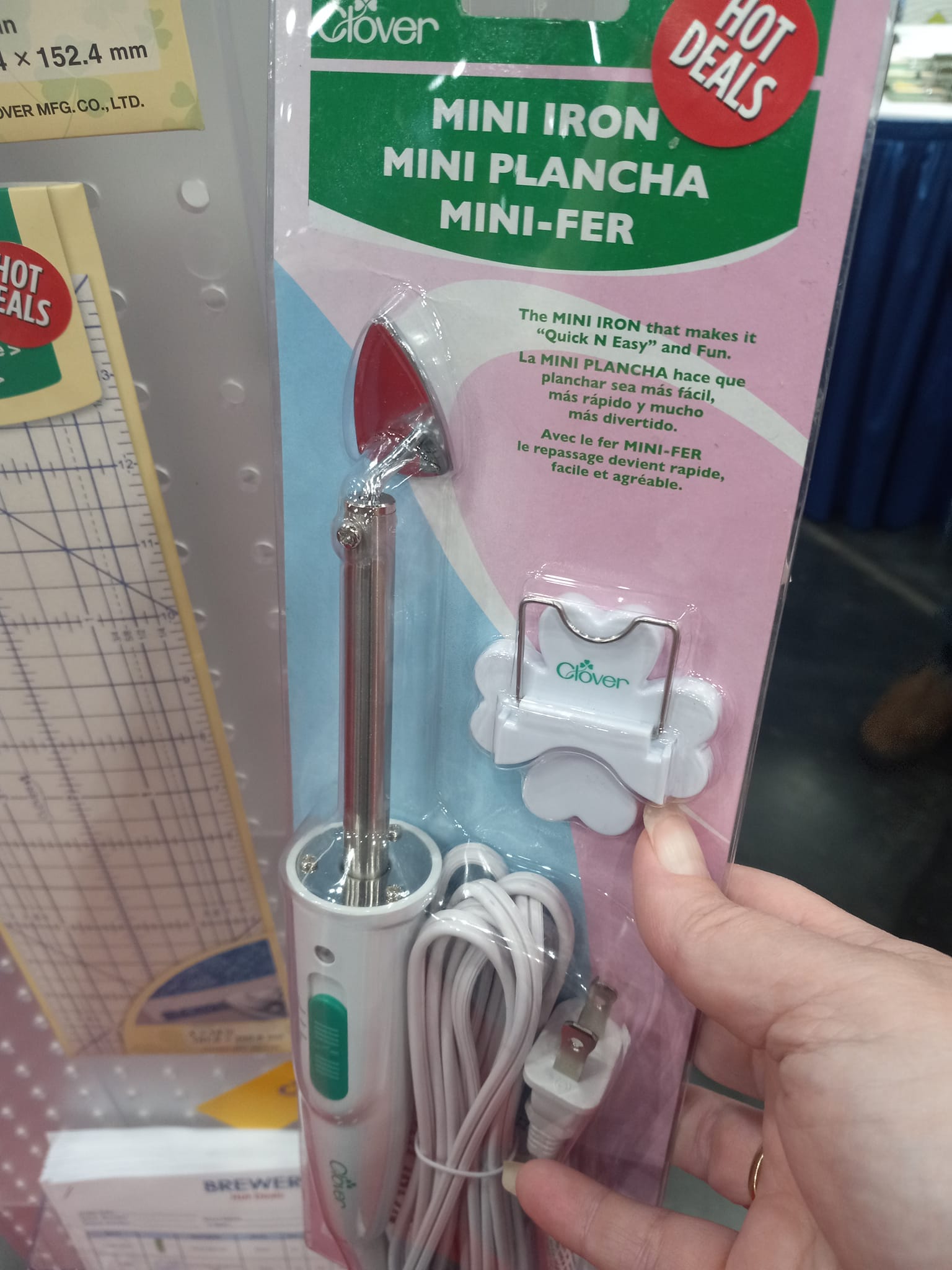 We found the funniest fabrics, designed by a lovely Korean gentleman that graciously allowed us to take pictures of his fabrics. As we oohed and aahed at his unique cat and dog designs, I decided everyone needs his fabrics in their life.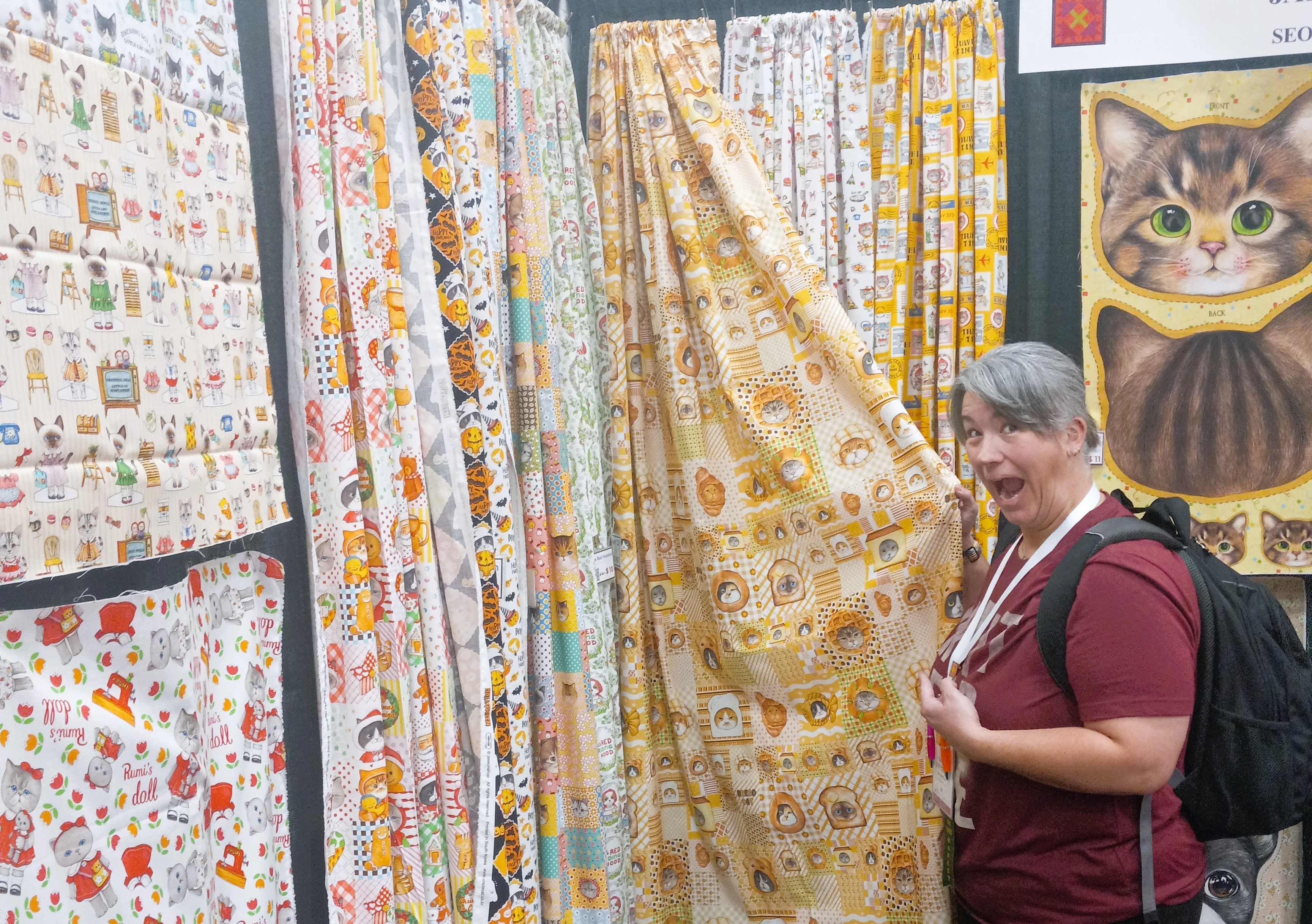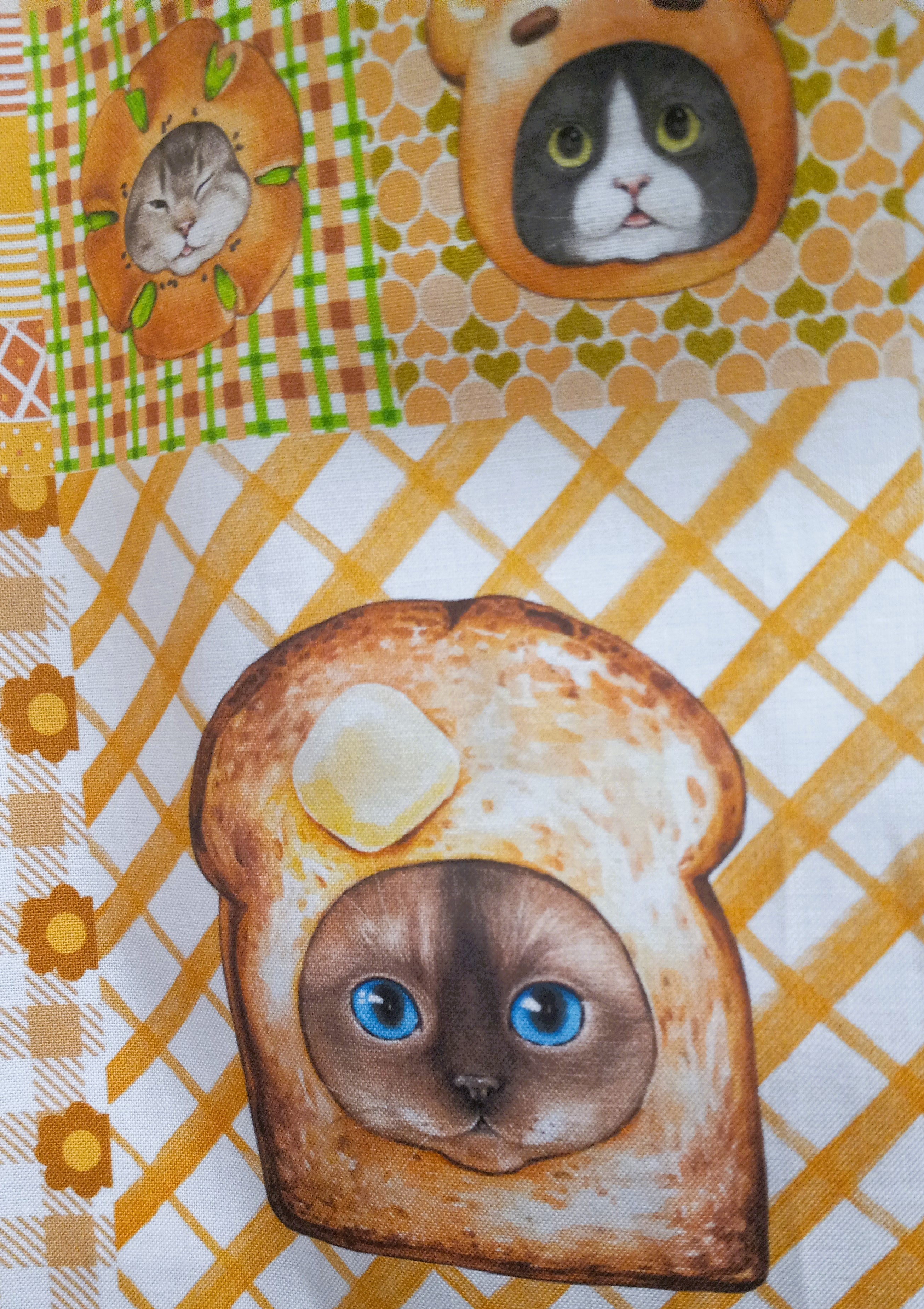 I am going to say that my favorite part of the show was the time I took by myself to walk through the quilt show that encompassed the other half of the convention center. There were rows and rows of quilts on display! For a newbie like me, it was overwhelming, but, armed with all of my new knowledge about quilts that I learned from the seminars I attended, I wandered through with my discerning eye to judge and ask myself what drew me to certain quilts.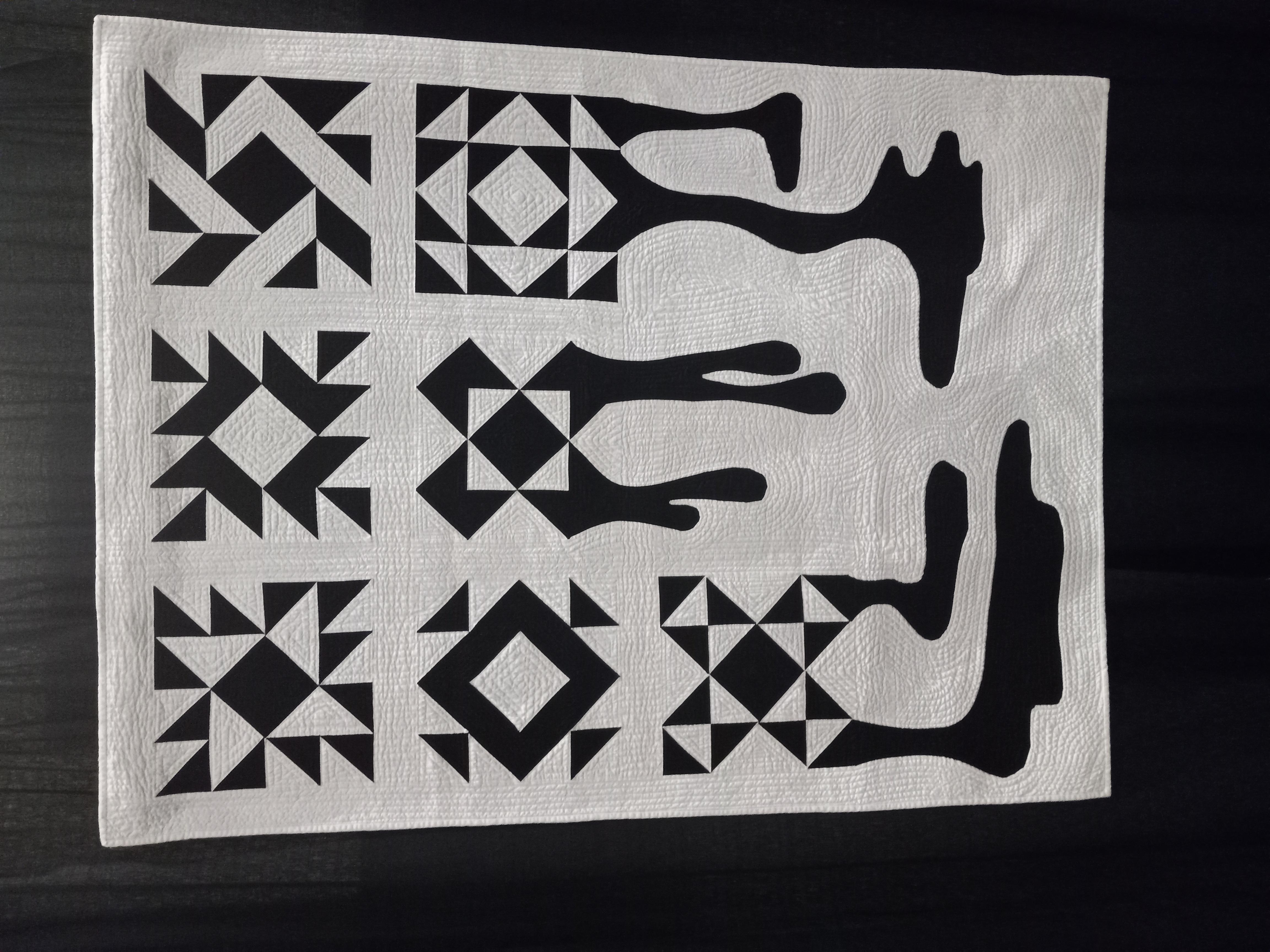 What did I like about it? Was it the traditional feel like those my grandmothers made? Or was it more modern and unexpected, like the quilts that Jessica does? If I owned that quilt, what would I do with it? Would it hang on my wall? Lay it on my bed? Or would it end up in a pillowcase in the closet because in the end, it's not my style at all?
I took a close look at some of the quilting. How does the quilting change the look of the quilt top? I noticed that the way a quilt is quilted makes a huge difference in its end result. The density and pattern of the quilting can completely change the final look of a quilt top that is so lovingly sewn together in the first stage.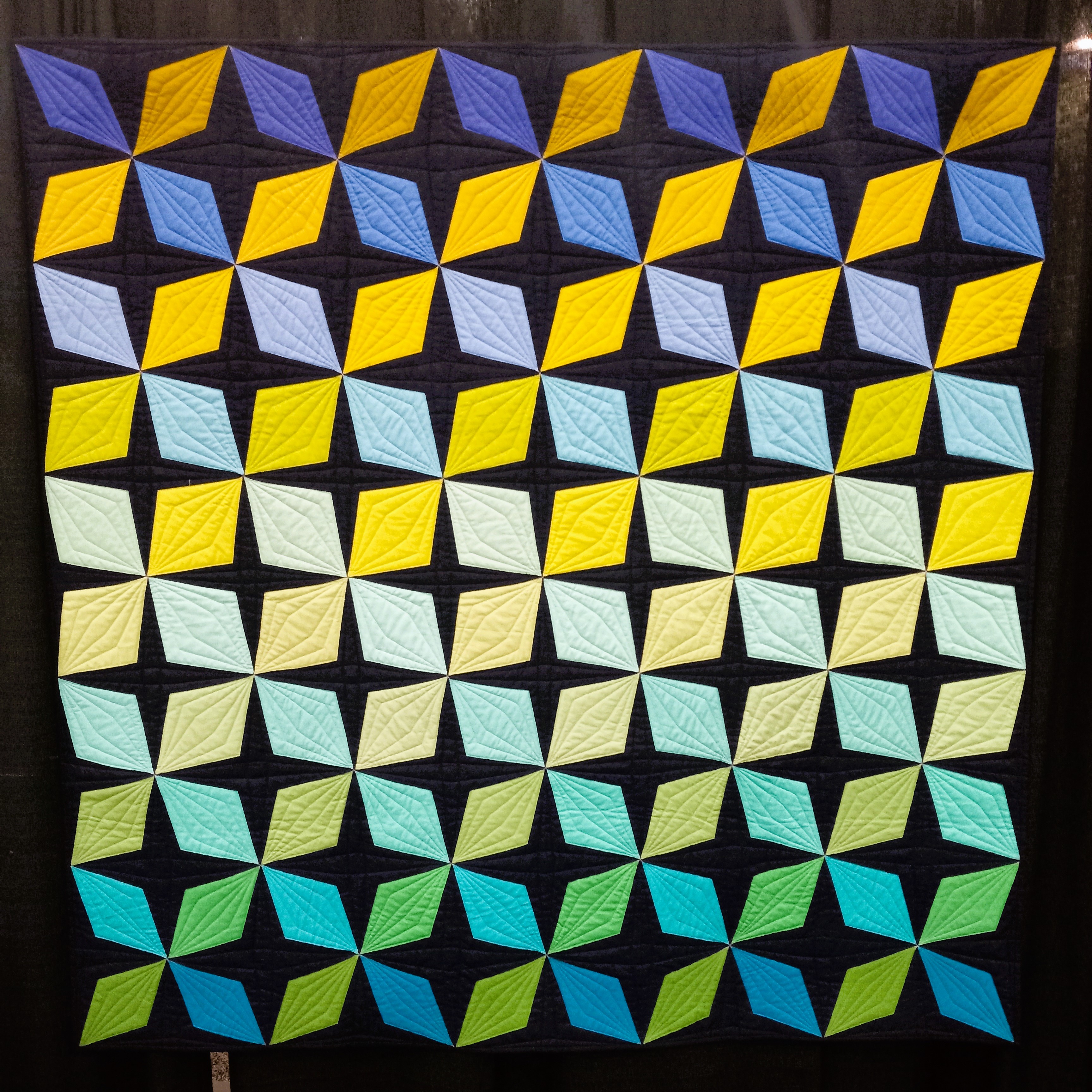 By the end of the show, I had learned SEW much new information, packed it into my already full brain, and felt like my education in this art has leveled up several notches. In the near future, I might even consider starting a project and calling myself a quilter. I'm certainly at least halfway there.