You might have seen that last month I entered a quilt into the North Texas Quit Festival and I won 1st place. So, now what? Am I just going to fold it up and put it in the closet? Nope! I never thought this would happen, but I'm going to try and enter it into other shows across the country. Now that it has a blue ribbon under its belt, let's see if it might bring me good luck in other shows. As I mentioned in the previous blog post, I never thought my quilts would be "show quality," but I now have the confidence to try entering other shows. The only problem is, I have no idea what I'm doing.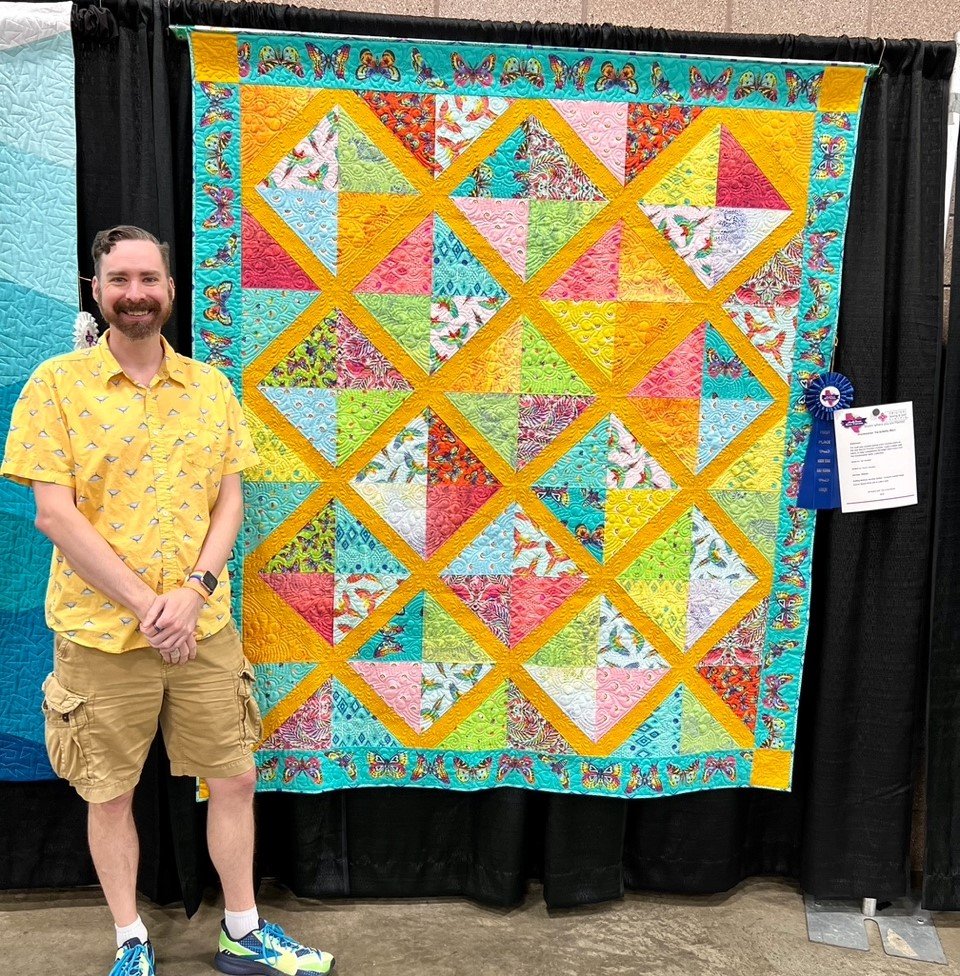 My first win in Texas last month.
I brought my quilt home from the show and hung it on my backdrop frame where I film my YouTube videos. One, because I wanted to admire it and two, because I wanted to try and keep the folds out of it as best as I can. Then I got to work researching. I googled quilt shows across the country and found a very comprehensive list. I honestly had no idea how many shows there are across the country and even around the world. Once I found shows that I was interested in, I started looking into rules that shows have. I soon discovered that no two shows are alike. It is a patchwork of rules and requirements that really can be quite confusing.
After spending some time looking at what shows are available, I made a list of what shows I am going to try and enter. The closest one was the State Fair of Texas, but sadly the deadline had already passed for this year. The next show coming up would be the Pacific International Quilt Festival and guess what? My quilt was accepted into the show! So off to Santa Clara it goes in October.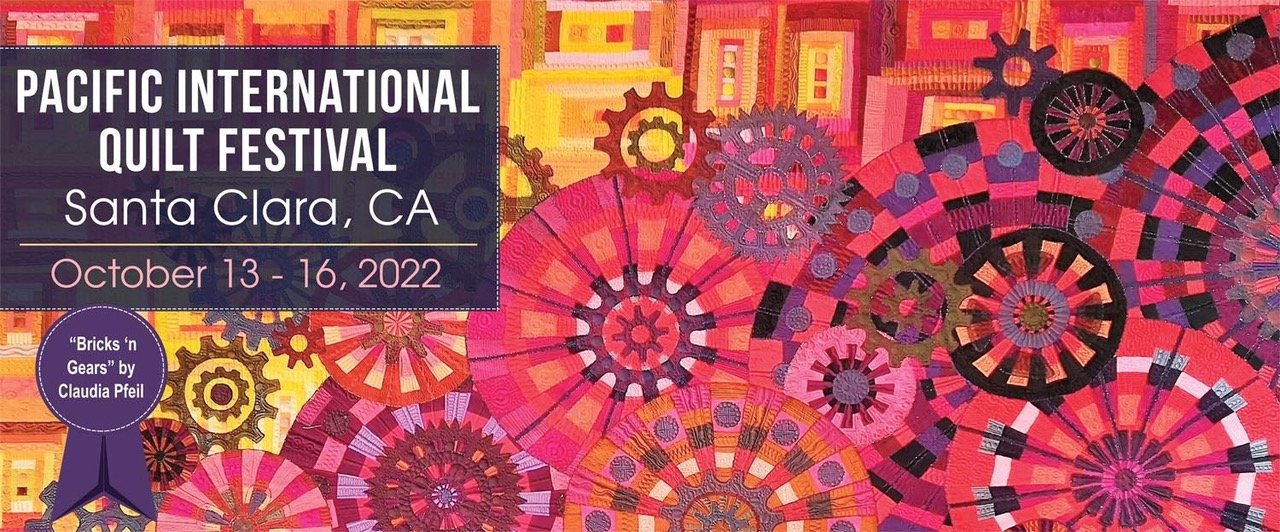 However, I have just unlocked a new fear. What if my quilt gets lost when I ship it to the show?! I'm sure we all have experienced delayed shipping or even worst, lost packages. It seems to have gotten worse during the pandemic. However, I don't have the PTO or the funds to hand deliver my quilt to Santa Clara. Sure, my quilt will be insured and I will get a monetary value payout if it were to be lost or damaged, but I would never get my quilt back. So, I am adding in a little of my own insurance in the form of an Apple AirTag. If you don't know what that is, it is a small tracking device that I can track from my iPhone. It won't get my quilt back if it is lost, but maybe I might have a better chance of being able to locate it. It is small enough and slim enough that the corner label on my quilt, which forms a pocket, is the perfect place for me to sew it in. In actuality, I'm sure this will give me more peace of mind than actual recovery if it were lost but what's a little piece of mind hurt?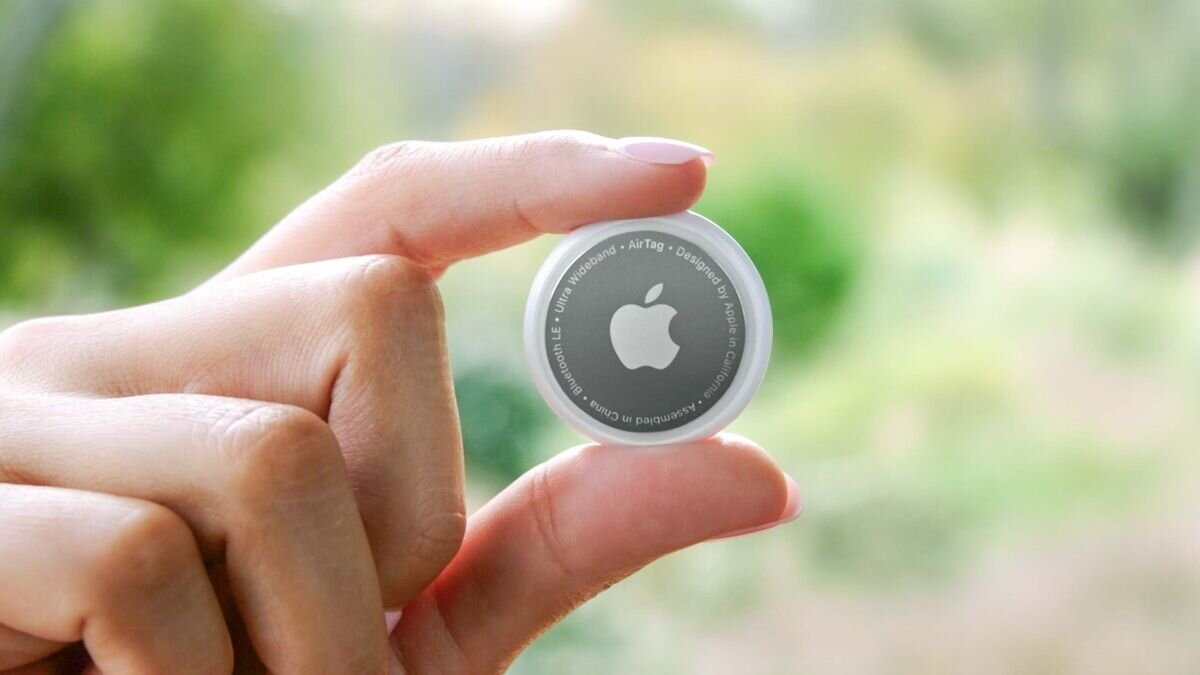 If I am going to be entering more quilt shows with this and other quilts I'm going to have to get comfortable with being able to ship my quilts to faraway places. I'm sure that will come in time. This has been quite the journey so far and I can't wait to see where my quilt journey takes me next. I already have some what I think are awesome ideas for more quilts and hope to enter them into shows as well. I just really hope when they do go out, they always come back home.