Posted by Robyn Thomas on 23rd Oct 2023
Many of our members enjoy a look behind the scenes at how their beautiful monthly fabric boxes are curated. So today we're peeling back the curtain and giving everyone a little peek.
Just like no two quilters are alike, so are the days at the Cotton Cuts HQ. We work very hard to carefully put together each month's puzzle mystery quilt clues to filling individual fabric orders, to creating Stitch-Its and so much more.
We are fortunate to have a very dedicated team that pours their heart and soul into getting all of the fabric ready for each individual project.
Die cutting is our specialty
Die cutting is a huge part of our week because we do all the work so you don't have to. What this means if you're a new quilter is that all of the fabric is pre-cut for you.
And for those of us that are seasoned quilters, we know how much cutting goes into getting all of those pieces ready for each of our Puzzle Mystery Quilts. Thankfully our team is dedicated to getting all those pieces ready for you in advance.
From bolt to mailbox each and every month
When the bolts of fabric arrive from makers like Moda, Art Gallery, Hoffman, and more, they are sorted by colorway. We then cut the bolts down into workable sizes. Our team preps and irons the fabric and then the die cutting begins.
Our die cutting pros are in charge of getting you all of the sizes and shapes you need for each PMQ clue. They sort them, count them and "kit" them with everything you need to get the job done. They get so excited when we add a special surprise to each box as well. They truly love our members and PMQ detectives.
Then our beautiful purple Cotton Cuts boxes are off to the mail carrier and on their way to your doorstep.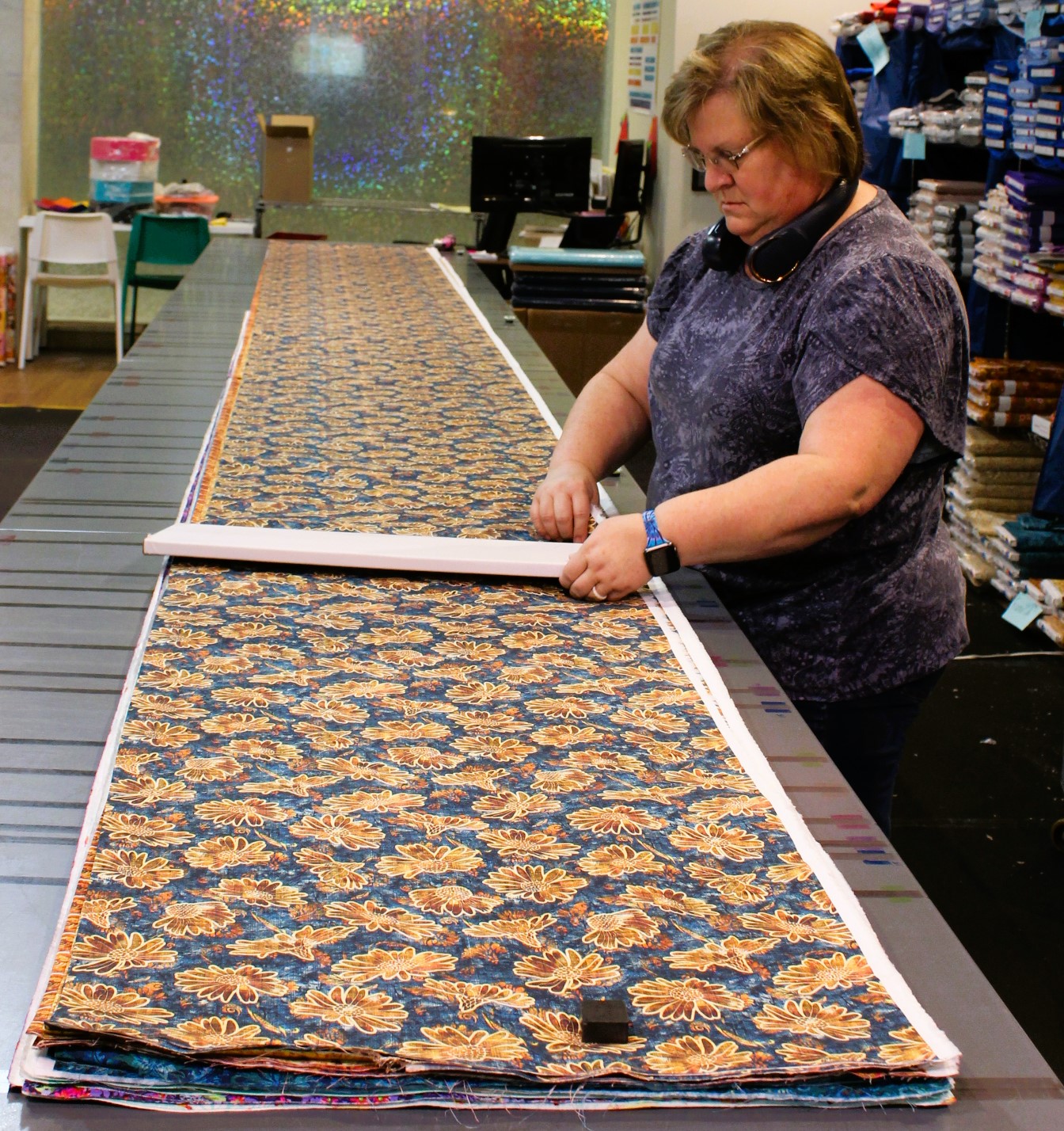 This is Holly. She starts her day filling new orders and answering client emails. She ships an average of 20 new packages a day. Once these new orders are set to ship, she joins in on die cutting, one of her favorite things to do.
Holly also plays a huge role in "kitting" our PMQ clues each month.
There is always a variety of things to do and I'm always busy," Holly says. "I enjoy working with the fabric. I'm a retired teacher and a quilter for over 30 years. I love being here and helping to grow the business. This is where I wanted to work when I retired and I was excited and lucky to find that Cotton Cuts was in St. Louis."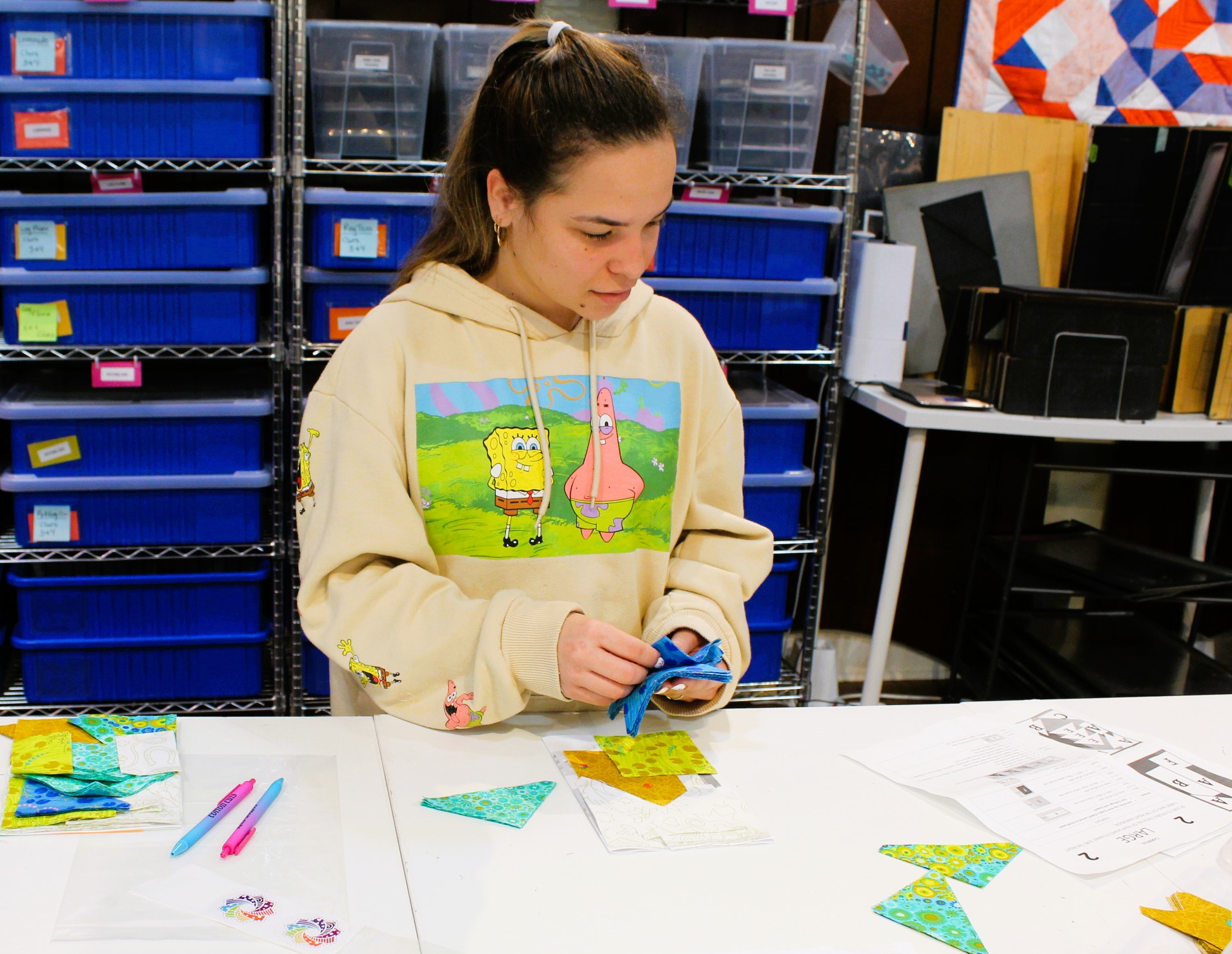 Kalianis also enjoys making clues and "kitting". She also spends her days cutting fabric off bolts, ironing, folding and die cutting. She has been trained to use the famous Cotton Cuts saw, making cutting stacks of fabric very easy.
Here, you can see Kalianis putting together a PMQ clue for one of our detectives. Can you identify the PMQ and colorway she's working on?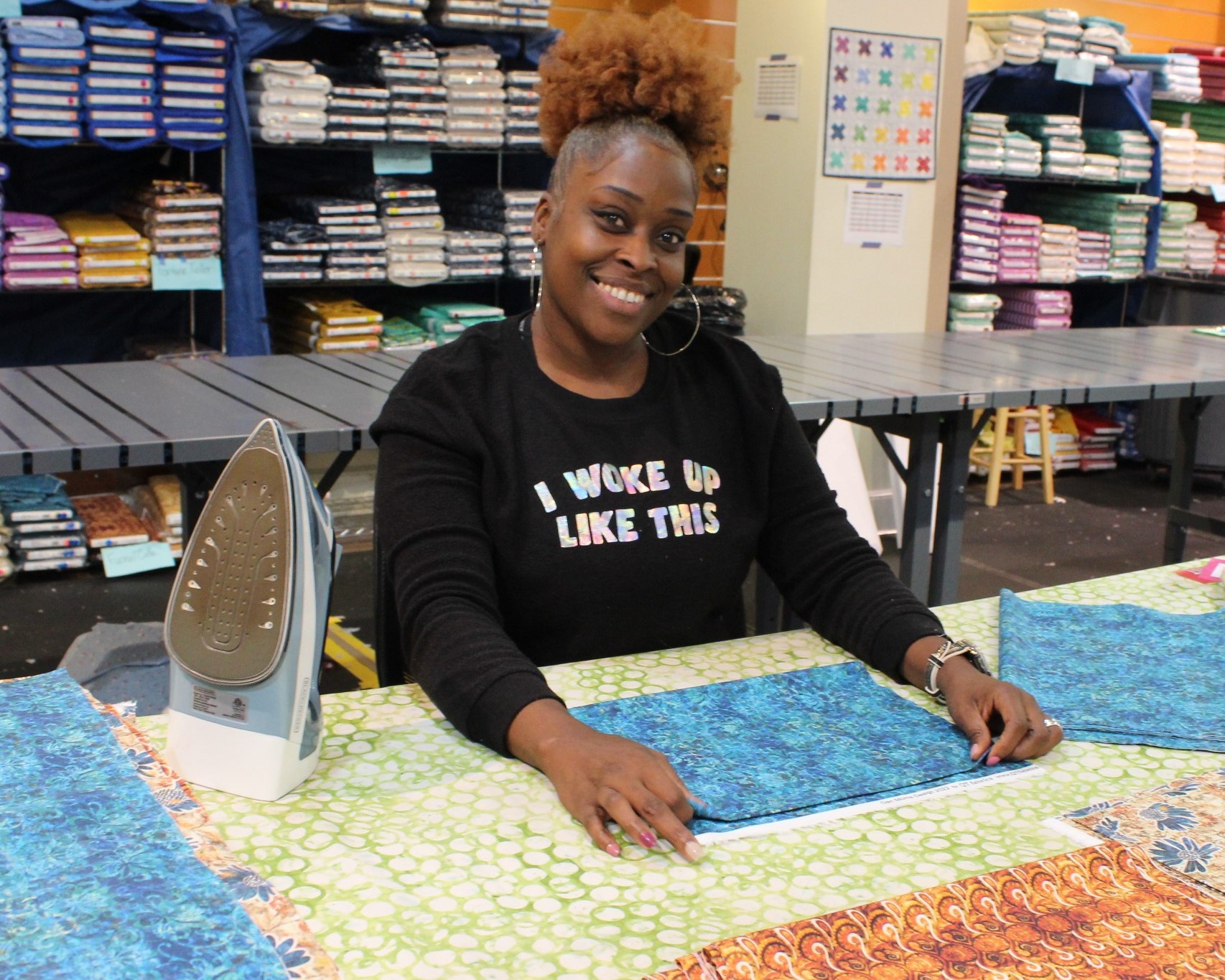 Here Angie's shirt says it all. She is always smiling and brings a fun energy to our HQ. She is always ready and willing to offer a helping hand when a job needs to be done. "Sometimes I'll do five different tasks in one day. Sometimes one task is all I'll do for the day. It just depends on what we need to get done."
Angie shares, "Ironing and folding are my favorite. It's very therapeutic. I could do this all day long. Plus I get to see all of the beautiful fabric that comes in."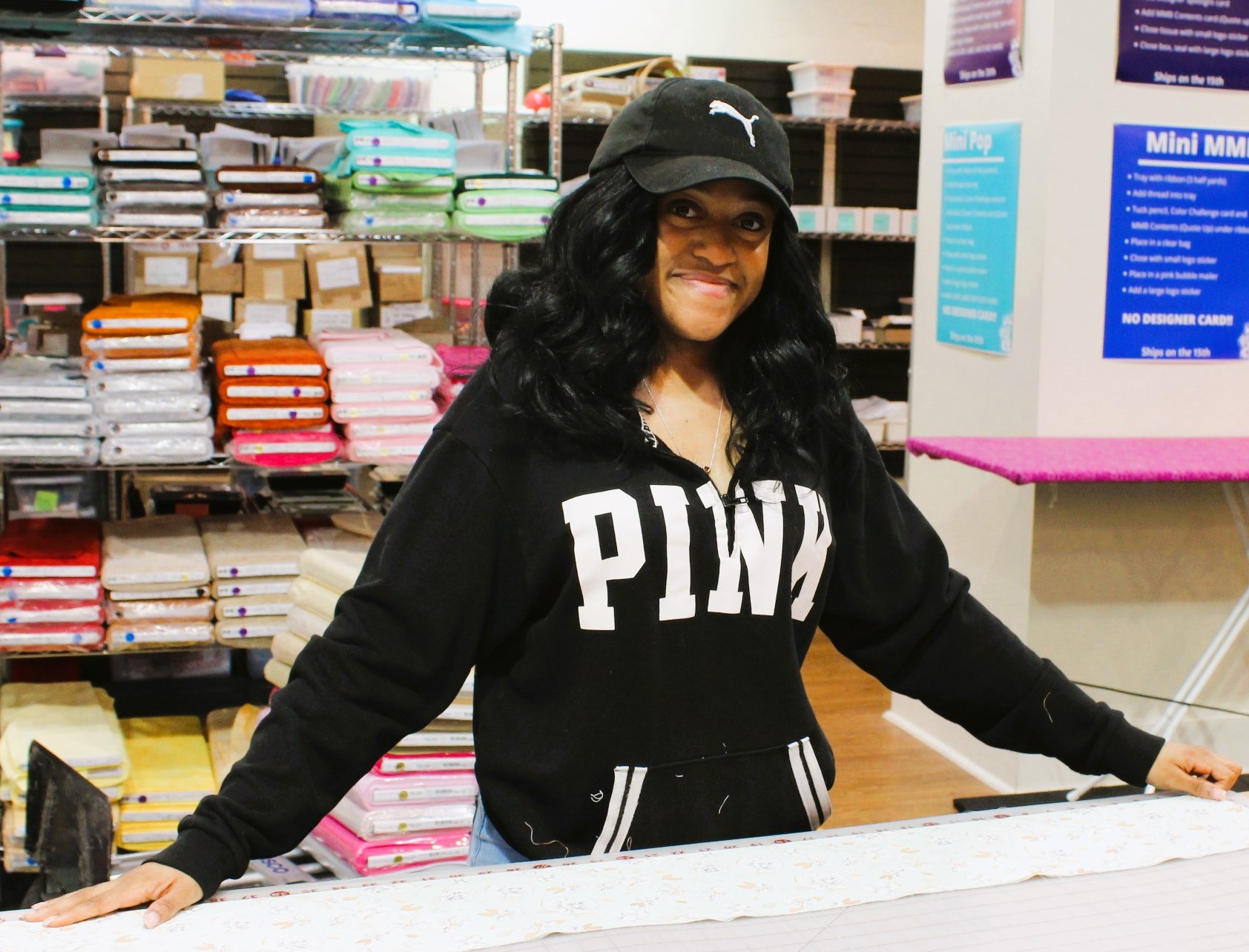 Not only do Cotton Cuts employees feel like members of one big family, but Angie and our newest employee, Teonia, are actually our mother/daughter duo. Teonia hasn't been with us long and is already loving it. "It's totally different from anything I've done so far. And there is lots more math than I thought." says a surprised Teonia.
This is just a very small peek behind the curtain. We have so much more we will be sharing in the next few months. In the meantime you can learn about another beloved member of the team, Teri here.