Posted by Robyn Thomas on 31st Aug 2023
So, you've finished your quilt top? Maybe you've just completed your Cotton Cuts Gnome of the Month or you've finished up the recent Puzzle Mystery Quilt, Piazza? Are you looking at your seven completed clues for Village Green and saying to yourself, "What is my next step when this PMQ is finished?" Maybe you've heard other quilters throw around terms like BATTING, LONG-ARMER and BINDING and wondered what they were talking about. Read further to understand your next steps so that your beautiful quilt top does not become a quilters UFO, an unfinished object.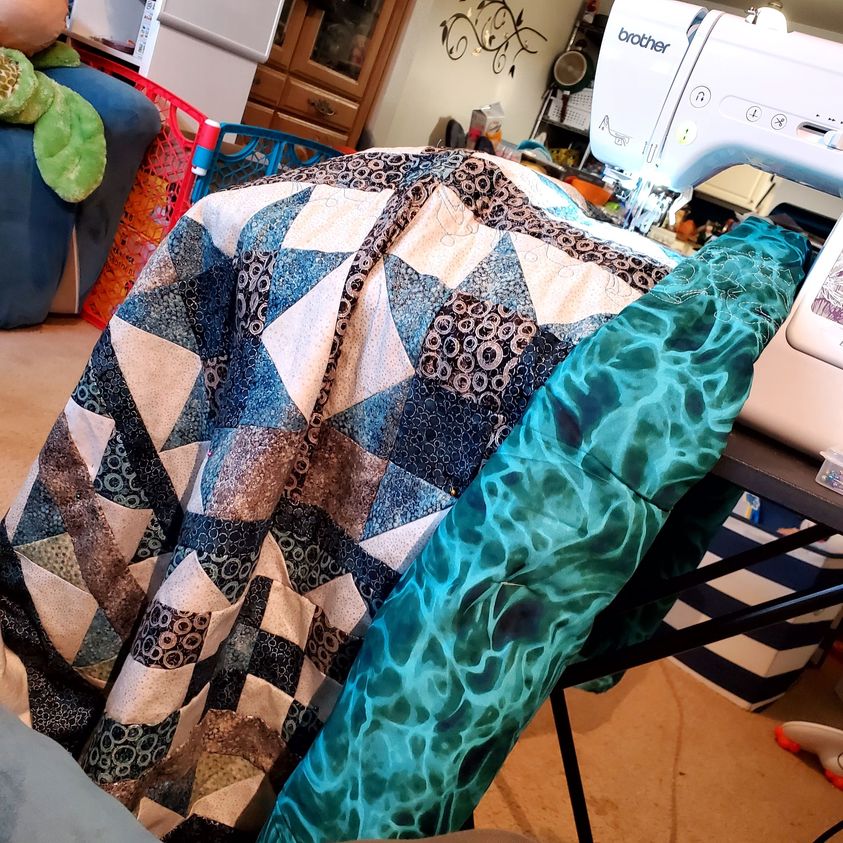 Cotton Cuts Fabric member Heather Hewes shared her PMQ, showing off both her quilt top and backing choice as she works through the quilting process.
What is batting? This is the material that goes in between the front and back of the quilt. It creates the inner part of the sandwich of the quilt you are building. You can choose from a wide variety of batting. There is 100% cotton batting and polyester batting as well. They will come in a choice of thickness. And you will find that the type and the thickness of your binding will make a difference in the look of your final project. And what your final project is, and is meant to do, could make a difference in your batting choice.
The thin cotton batting will result in a quilt that is flat, and will make the design of your quilt top the star of your project. And the thick and fluffy polyester batting will really make your quilting design pop. As the designer, you will decide which one is more important to your final result.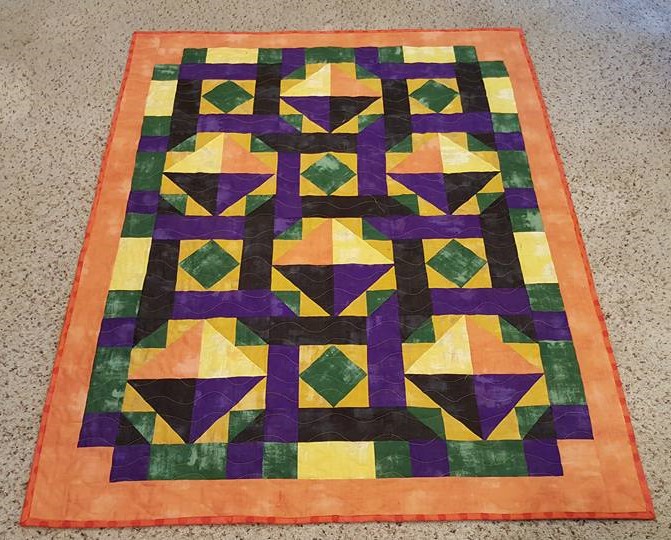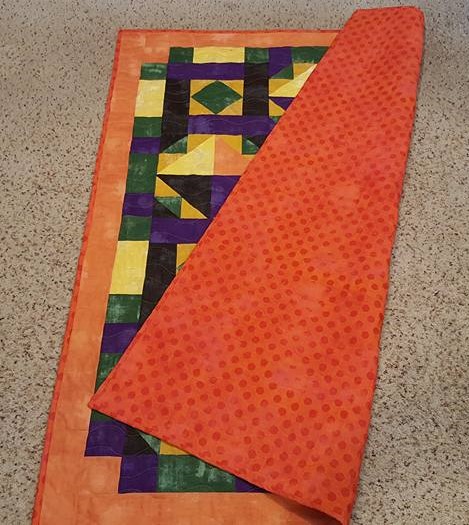 Here is Rhonda Storey's finished PMQ from 2017, All A Glow, Sedona Sunset.
And obviously, if there is a front to your quilt, or a top, you will need to find BACKING for it. Makes sense, right? Traditionally, your backing is simply a length of fabric to cover the back of the quilt. Coordinating fabric is usually chosen. It's economical and perfectly acceptable to use a simple sheet as your backing.
But keep in mind, your backing does not have to be simple or one-dimensional. As you continue to pursue your craft, consider expanding your creativity to the back of your quilt as well as the front. Maybe you try a two tone look, mixing two different fabrics together. Or take a few more quilt blocks that coordinate from the quilt top, and place them on the back. This is a great way to use your Oops Kit fabric when you have completed your PMQ.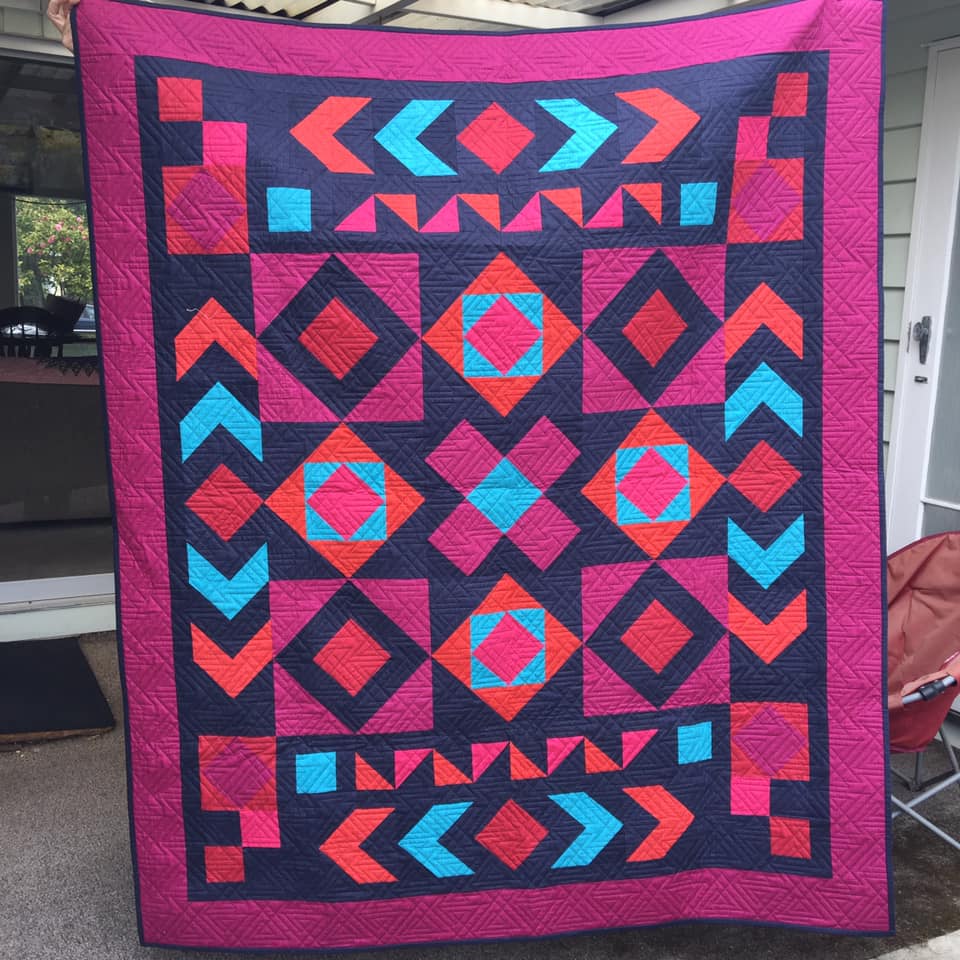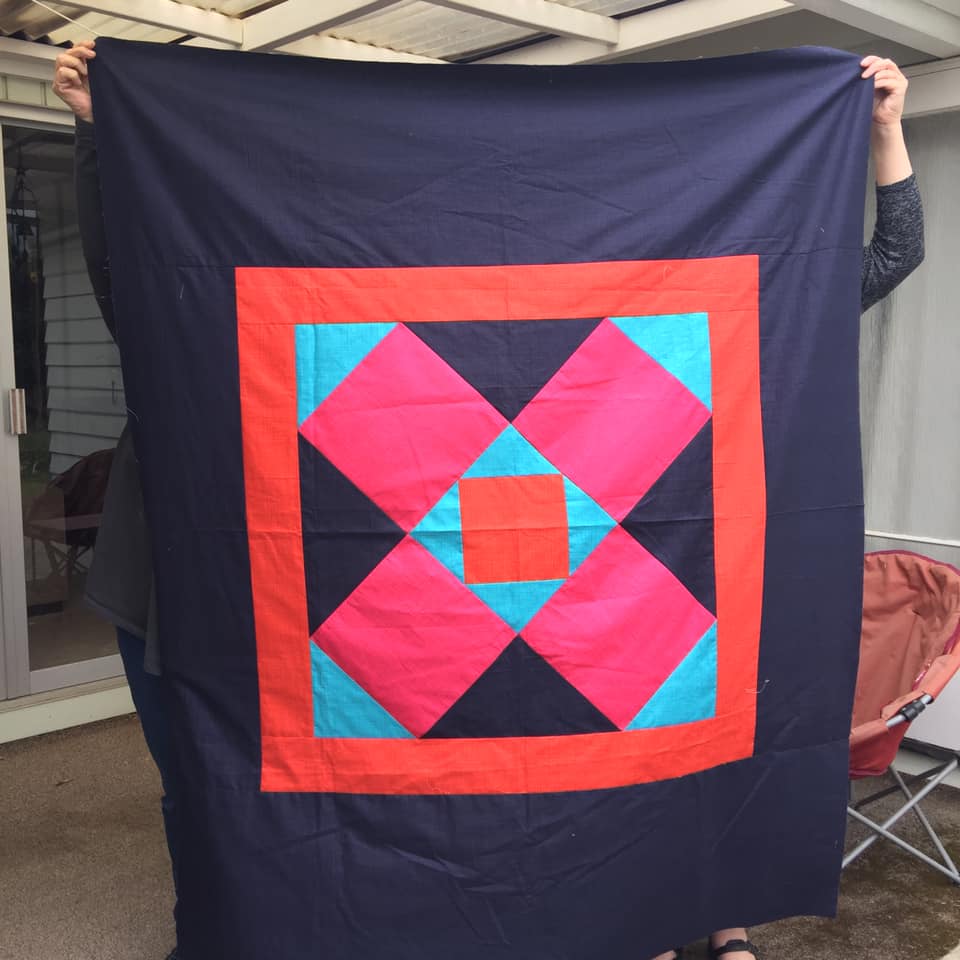 Here is one of Sheila Christensen's completed quilts, showing her quilt top, and the pizzazz she added to the back.
Now that your batting and backing is chosen, its time to quilt. Small projects can be done by you, on your regular sewing machine. Larger quilts are definitely more complicated due to their size. You can quilt on your regular machine. You can also consider a home machine with a larger throat to make quilting your own projects possible. But you will need to weigh your options. As a new quilter, you may choose to send your quilt top to a professional long armer, who will have the large long arm machine to get your quilt finished quickly. A long armer will give you a price based on the size and finishing options. They will ask you for thread color, design choice and finishing.
And what is binding? This is the "frame" around your now sewn, backed and quilted project. This is the finished outer edge of the quilt that brings it all together, enclosing the raw edges of the sandwiched layers you have now sewn together. A standard binding is two and a half inches wide. The binding is sewn down on one side and then folded over and sewn again to finish up your project. Binding can be hand sewn or sewn on your machine.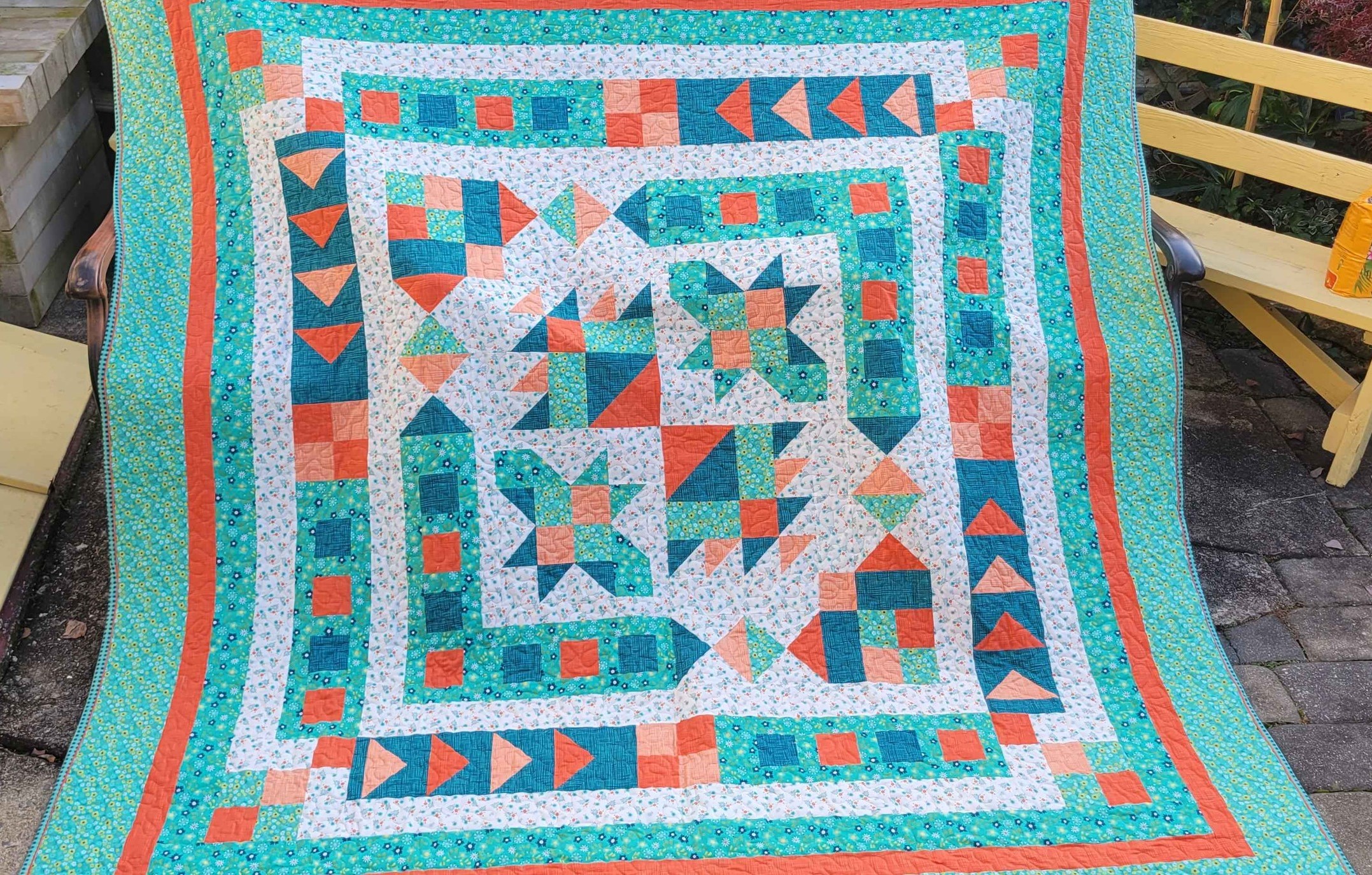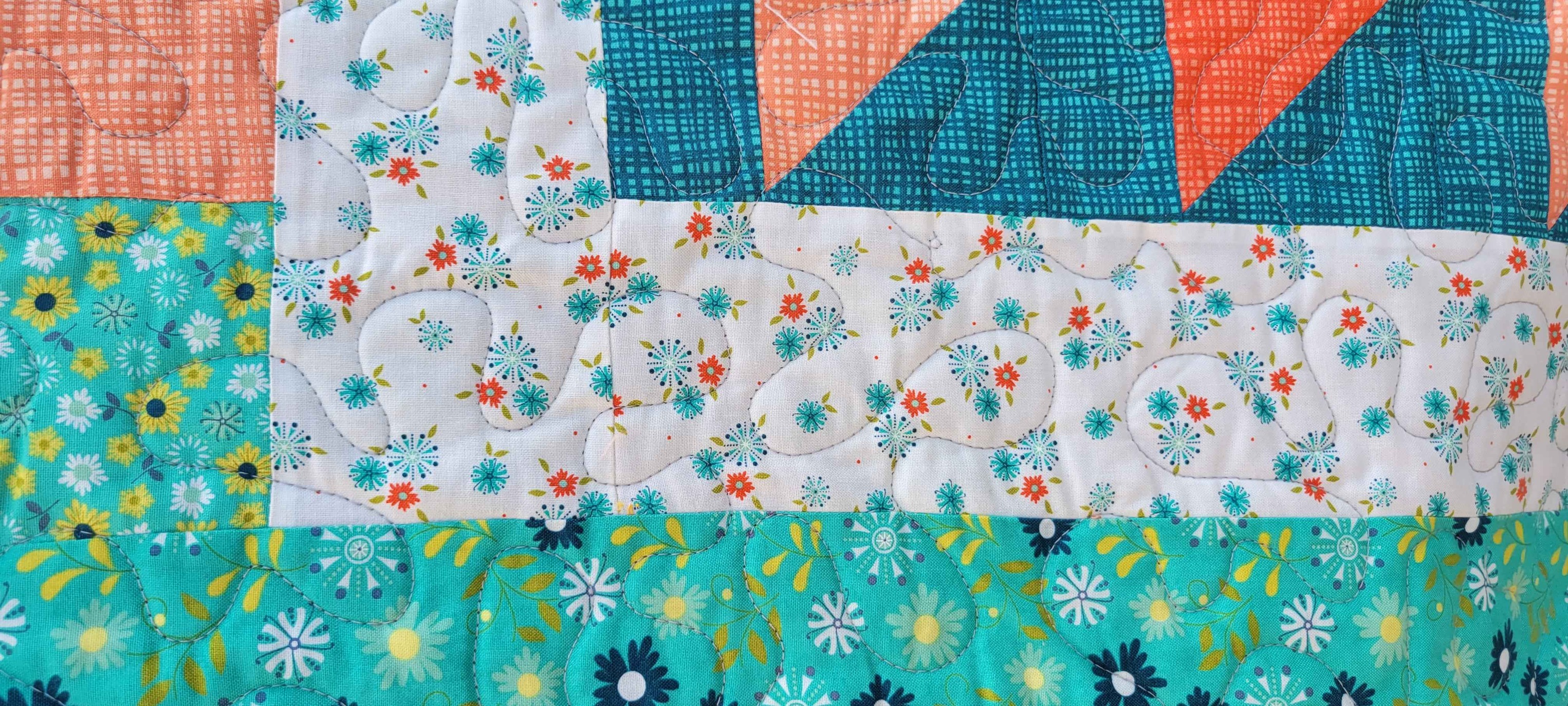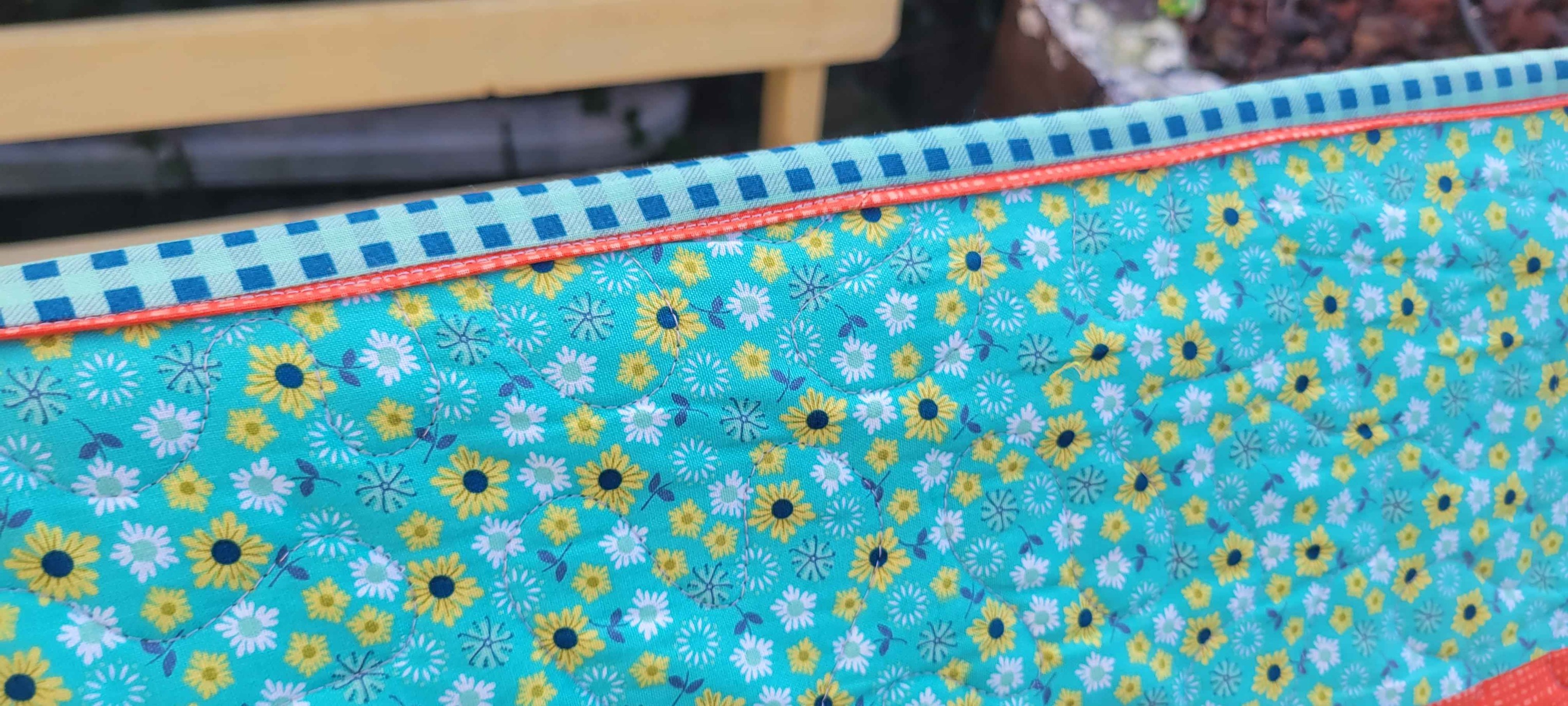 Here is a great example of a quilting design option, completed binding, as well as the completed quilt. This quilt was shared on Cotton Cuts Fabric by Joe Klinkhoff. Joe's quilt is our PMQ from 2018, This Way and That Way in the Foxtrot colorway.
After your binding is complete, your quilting project is finished! At this point, the only thing left to do is proudly display and show off your work. Hang that gorgeous quilt on the wall, display it on a bed, or lovingly wrap it up and give it to a loved one.
Don't forget to label your masterpiece. Whether you give your masterpiece as a gift or keep it in your home, keep in mind that your family, friends or gift recipient will want to know when this quilt was made and who made it. Make sure to record that information for everyone to appreciate for years to come.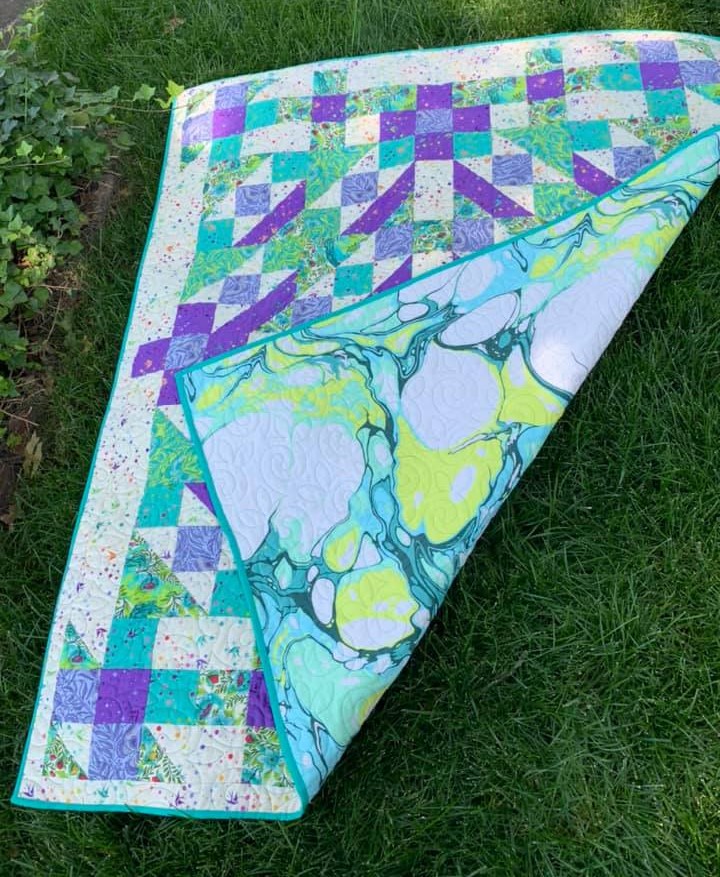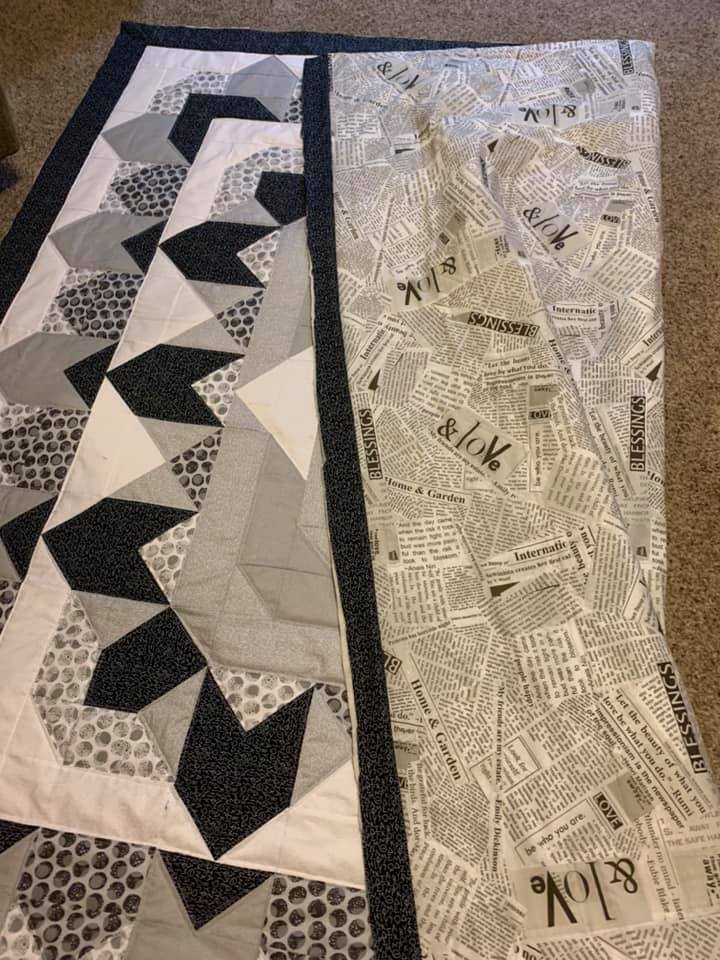 Two additional examples of completed quilts from our PMQ detectives, Laura Bivins Patterson and Joanna Dickhaut. They were both kind enough to share their completed quilts with us on Cotton Cuts Fabric. They have chosen beautiful coordinating backing fabric and binding to complete their beautiful quilt tops.
And finally, if you are looking for more information on any of the techniques and supplies mentioned, check in with your local quilt store to find beginner classes. Your local quilters are a great resource to teach you, connect with other local quilters and share resources for long armers in your area. Make sure to check out YouTube videos. These are a great resource right in the comfort of your own home to teach you skills. As always, our Cotton Cuts Ambassadors are a great resource for all of the ideas and shares as well. Like and follow their platforms and engage with them. They are happy to answer your questions.
Happy sewing and happy finishing!