Posted by Robyn Thomas on 24th Aug 2023
Are you ready to unwrap a world of creativity and inspiration? Look no further than the Cotton Cuts Classic Membership Box, a treasure trove for quilting enthusiasts. Whether you're seeking the perfect holiday gift idea or craving a personal quilting adventure, this membership offers an exciting journey filled with fat quarters, captivating quilting fabric, and expertly crafted quilting patterns that spark your imagination.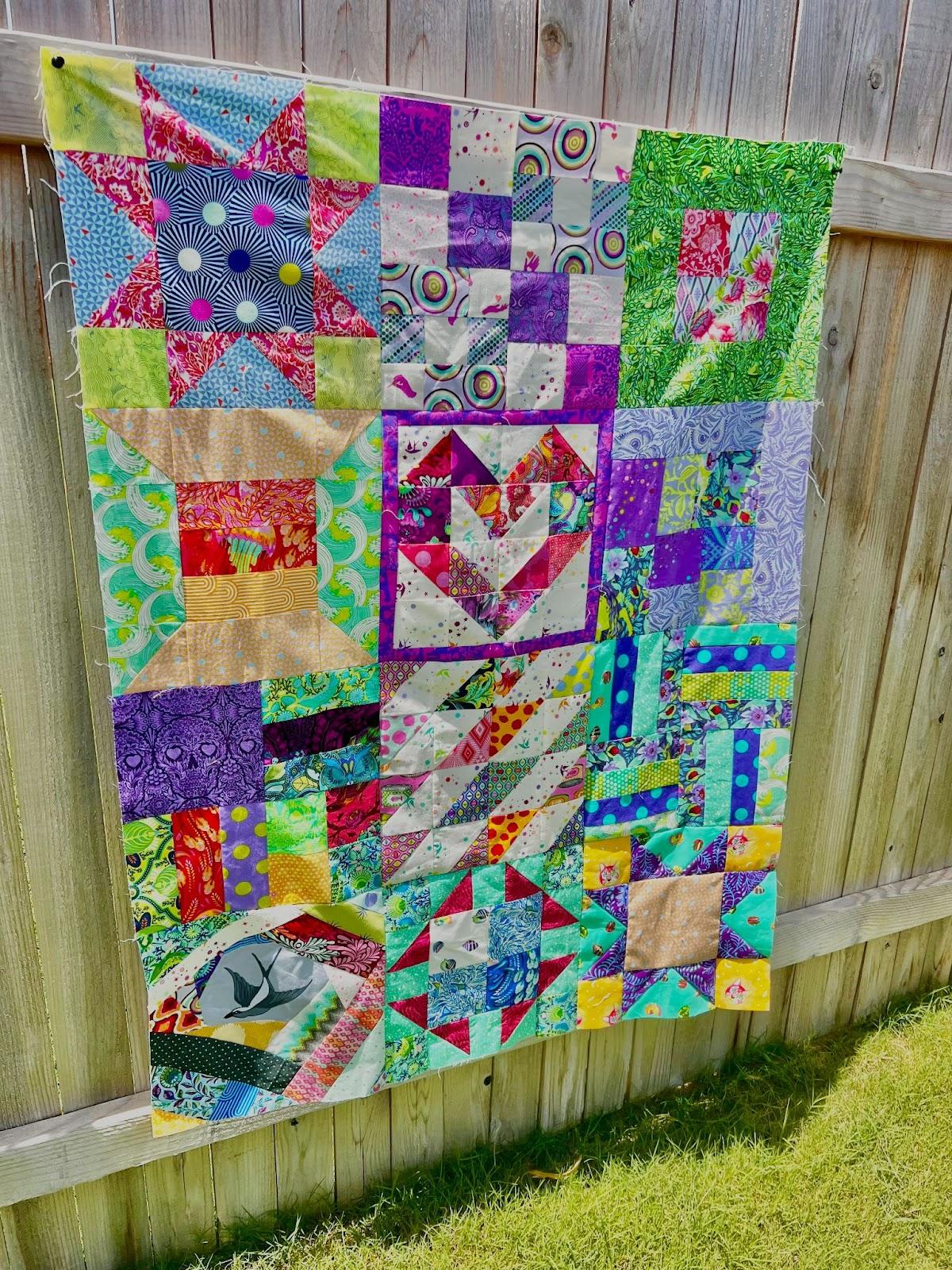 At the heart of the Cotton Cuts Classic Membership Box are the cherished fat quarters. These petite pieces of fabric are like artistic snippets, measuring 18 by 22 inches each. Imagine holding a canvas of colors, patterns, and textures right in your hands. With each box, you'll receive a thoughtfully curated collection of these fat quarters, carefully chosen to harmonize with the season and your creative aspirations.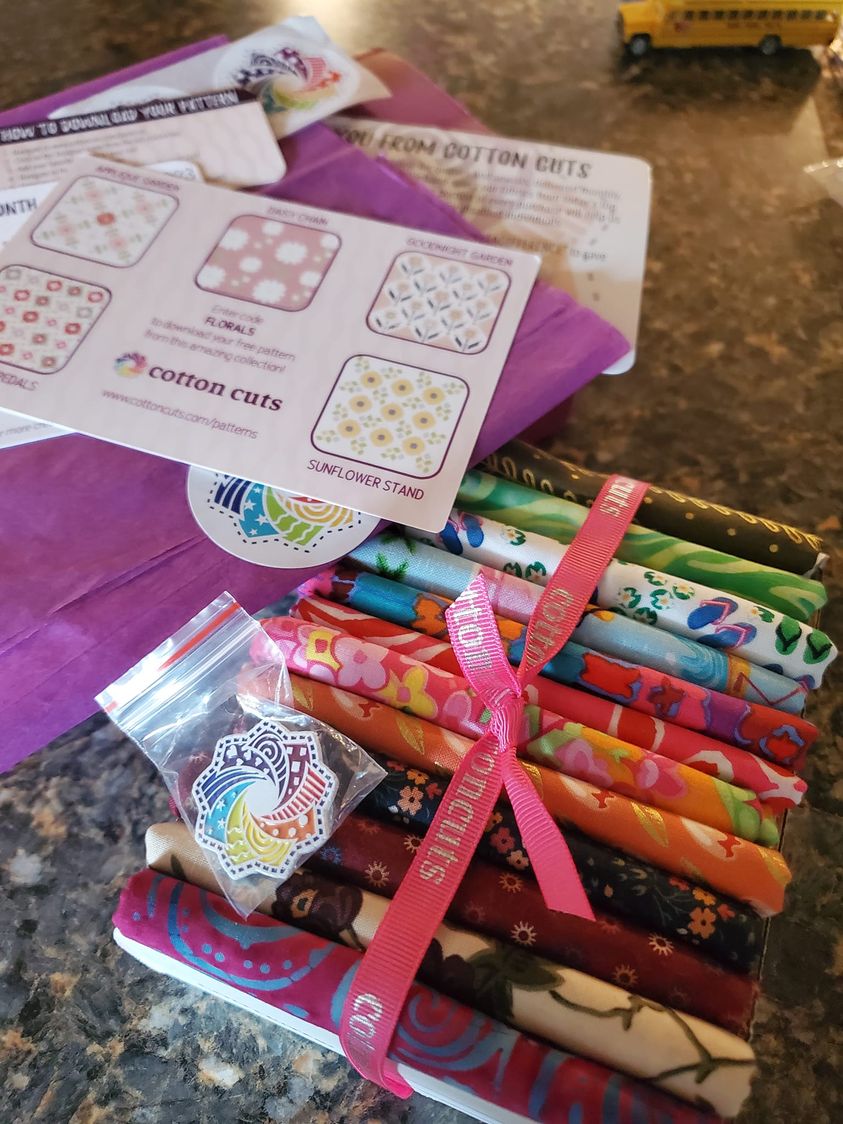 Searching for that ideal holiday gift idea that stands out? The Classic Membership Box is the perfect answer. Gifting someone a subscription means presenting them with a continuous flow of artistic inspiration. Imagine their joy as they open each box, revealing a carefully selected assortment of fabrics that hold the promise of countless quilting adventures. The Classic Membership Box is a gift that keeps on giving, extending the festive spirit beyond just a one-time moment of joy in opening a gift. Imagine extending that joy to your favorite quilter every month, every other month or every quarter?
Inside every Classic Membership Box, you'll discover an array of enchanting quilting fabric. These fabrics aren't just materials; they're gateways to your next masterpiece. From vibrant florals that exude the freshness of spring to cozy textures reminiscent of winter evenings, each piece of fabric carries its own story. The beauty lies in how these fabrics effortlessly come together, ready to be transformed into unique quilts that reflect your personal style.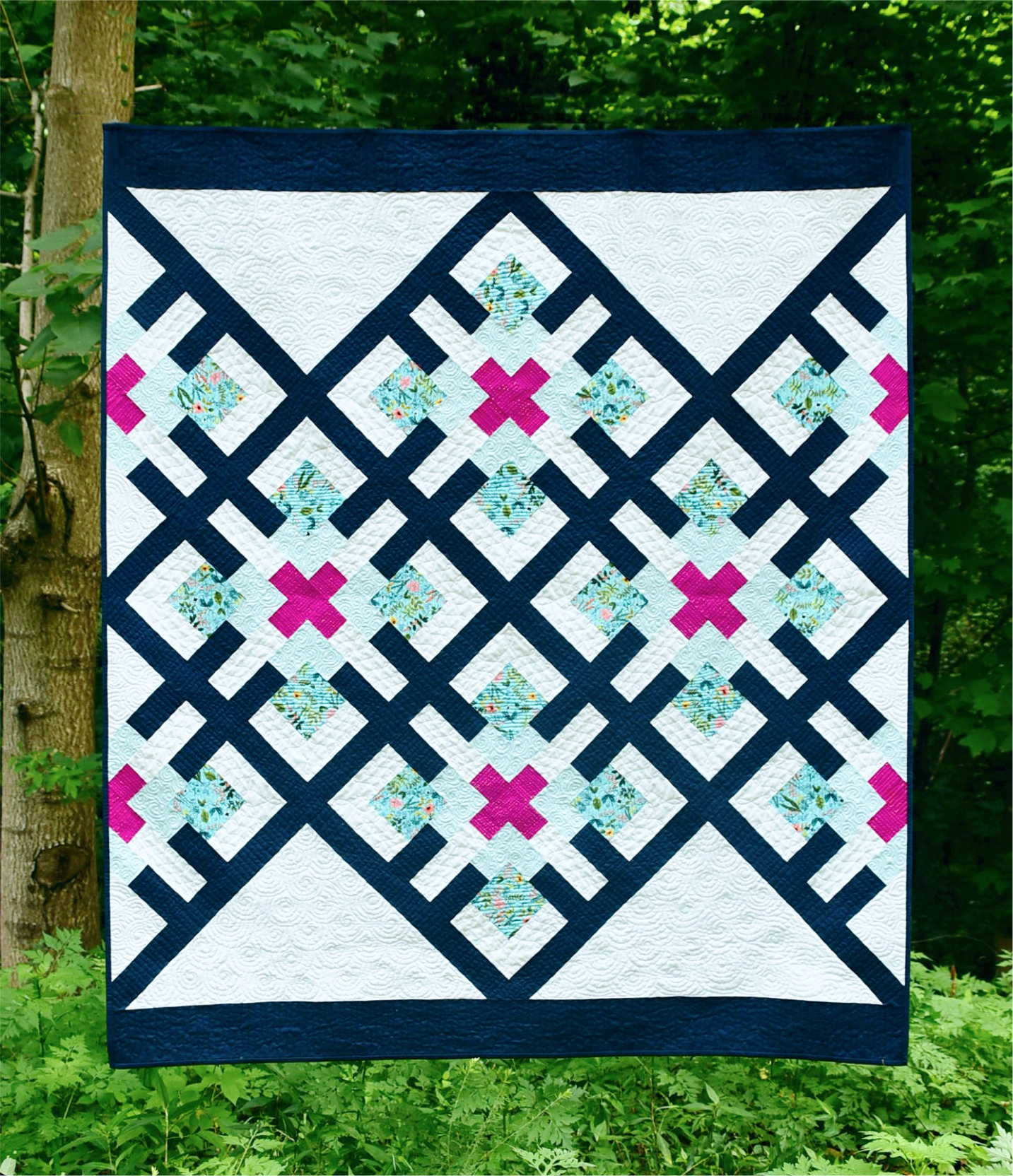 Each month your Classic membership includes a free pattern download. You could choose Lattice Vines by Cheryl Brickey of Meadow Mist Designs. Cheryl as been included as one of our exclusive Featured Designers.
But what's a quilt without a carefully crafted quilt pattern? Fear not, for the Classic Membership Box has you covered. Each box comes with an expertly designed download pattern option from our Designer of the Month, that will guide you through the creative process. Whether you're a seasoned quilter or just starting out, these patterns cater to all skill levels. The step-by-step instructions and clear illustrations ensure that your quilting journey is as smooth as it is satisfying.
Beyond the fabric and patterns, the Classic Membership Box is a doorway to a vibrant quilting community. It connects you to the local quilt shop experience, right from the comfort of your home. Our Facebook community, Cotton Cuts Fabric, fosters a sense of belonging and shared passion. You'll find spaces to showcase your creations, seek advice, and celebrate the beauty of quilting alongside fellow enthusiasts.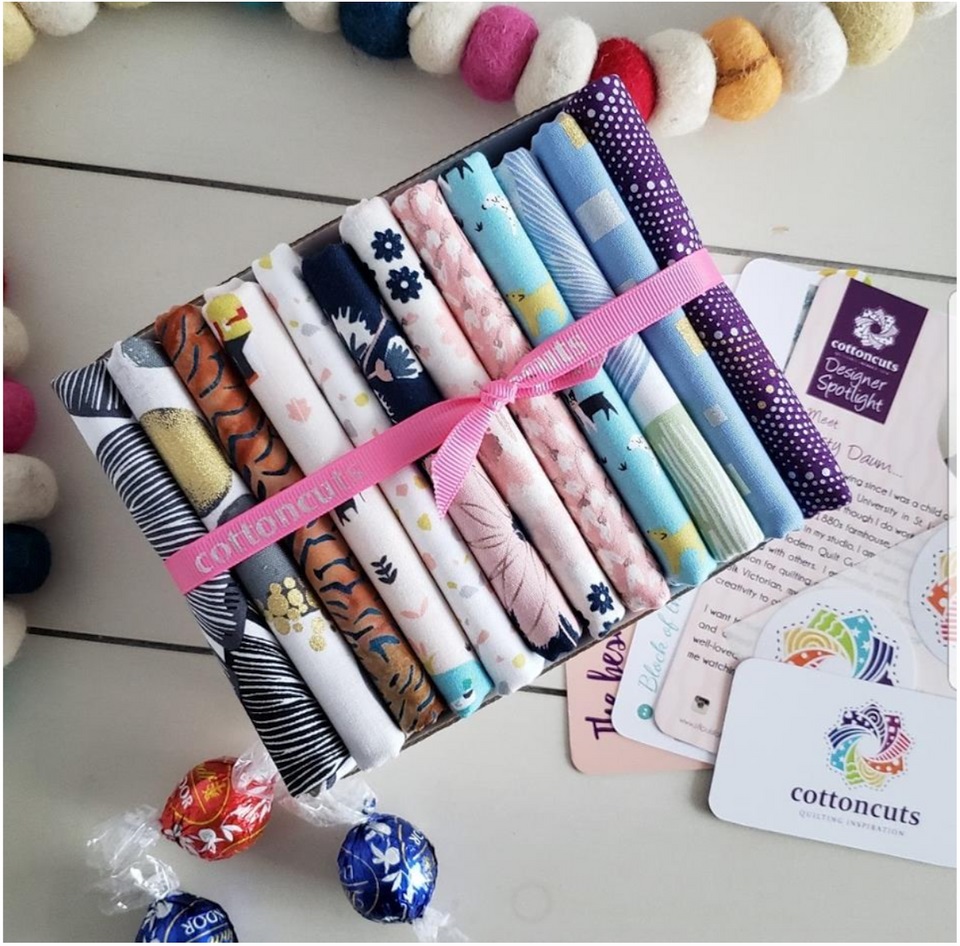 In essence, the Cotton Cuts Classic Membership Box isn't just about receiving a subscription. It's about unwrapping a world of possibilities, one box at a time. The fat quarters, quilting fabrics, and patterns merge into a symphony of creativity, allowing you to bring your artistic visions to life. Whether you're looking to indulge in your passion for quilting or seeking a thoughtful gift for someone special, this membership box is a gateway to a world of joy and expression.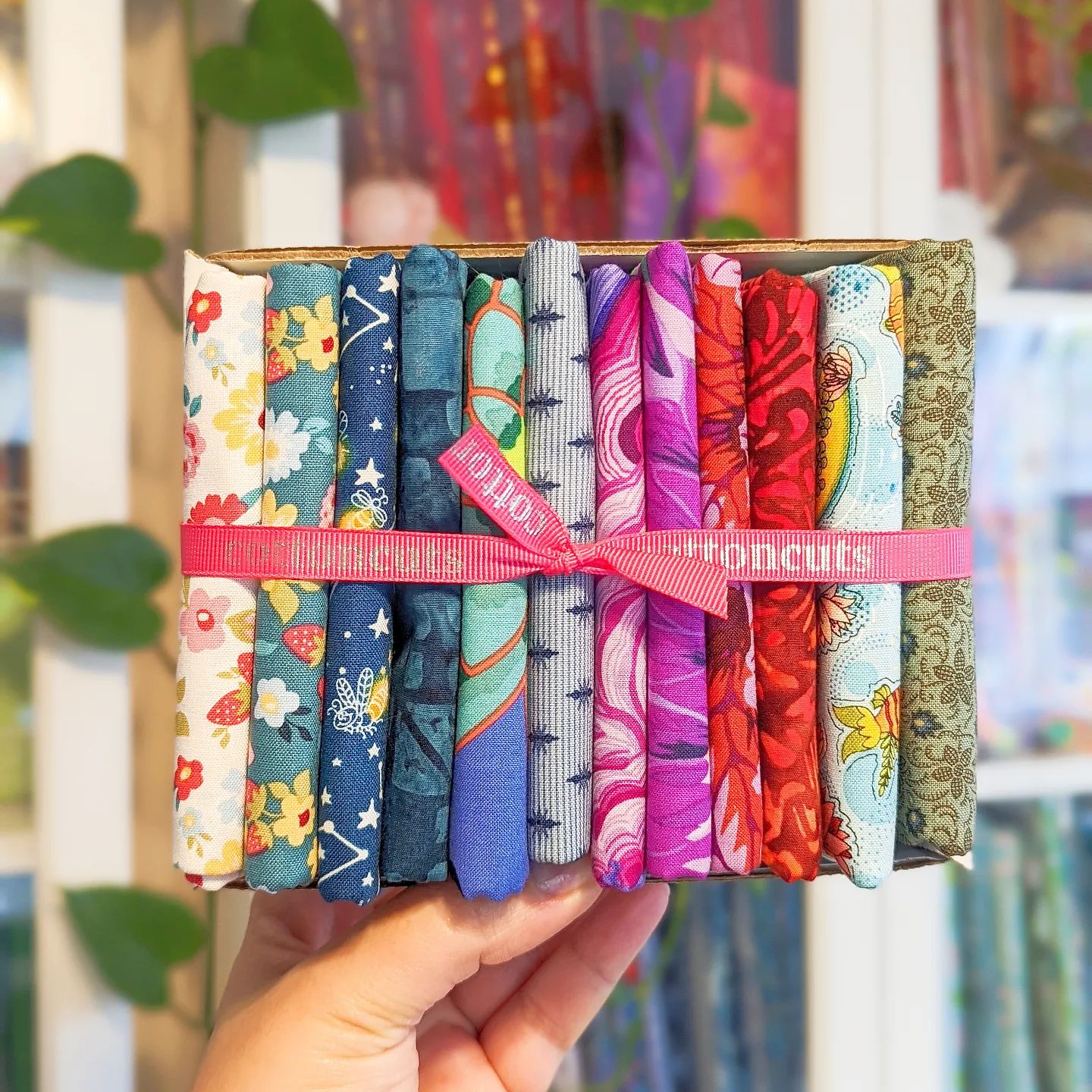 To sum it up, the Cotton Cuts Classic Membership Box is an invitation to embark on a quilting journey like no other. It's a celebration of creativity, connection, and the joy of crafting something beautiful with your own hands. With each box, you'll nurture your passion for quilting and join a community of like-minded individuals who share your enthusiasm. So why wait? Open the door to creative exploration with the Cotton Cuts Classic Membership Box and let your quilting adventure unfold.