Posted by Ian Garland on 8th May 2023
Piazza just wrapped up and it is time to start thinking about the next PMQ. However, even though Piazza is finishing out it might not be over completely. You might be thinking about if you want to add borders or not and what fabric do you want to have as your backing fabric. A hard part about boarders and backing is what fabric to use. With backing fabric, you can pick fabric that matches or goes against the grain. Because not a lot of people will see the back some people don't match the backing fabric to what the front of the quilt is. However, adding borders can be a hard decision and choice. So, let's talk about how I go about the process.
Around clue 8 or 9 Cotton Cuts sends out an email letting PMQ detectives know that they can order fabric for borders and backing. They also send out a finishing document that tells how much fabric is needed for both and how to assemble them. Once I get that email I lay out all the finished clues up until that point and start to look for patterns and overall colors. I have done many PMQs and over that time I have started to see similarities between all of them that I've done. They all are unique and different, but I have noticed a few patterns that tend to be in each PMQ. So, when I lay out the clues on the floor, I start to look for what color is most prevalent. A lot of times when looking at the pieces you can find a color that jumps out the most at you. If you are having trouble terminating what color that is, try squinting your eyes. When your pieces are blurred you might get a better idea on what color pops out the most. Now that I have established what color is most prevalent, I look for the second most prevalent color, then the third, and so on.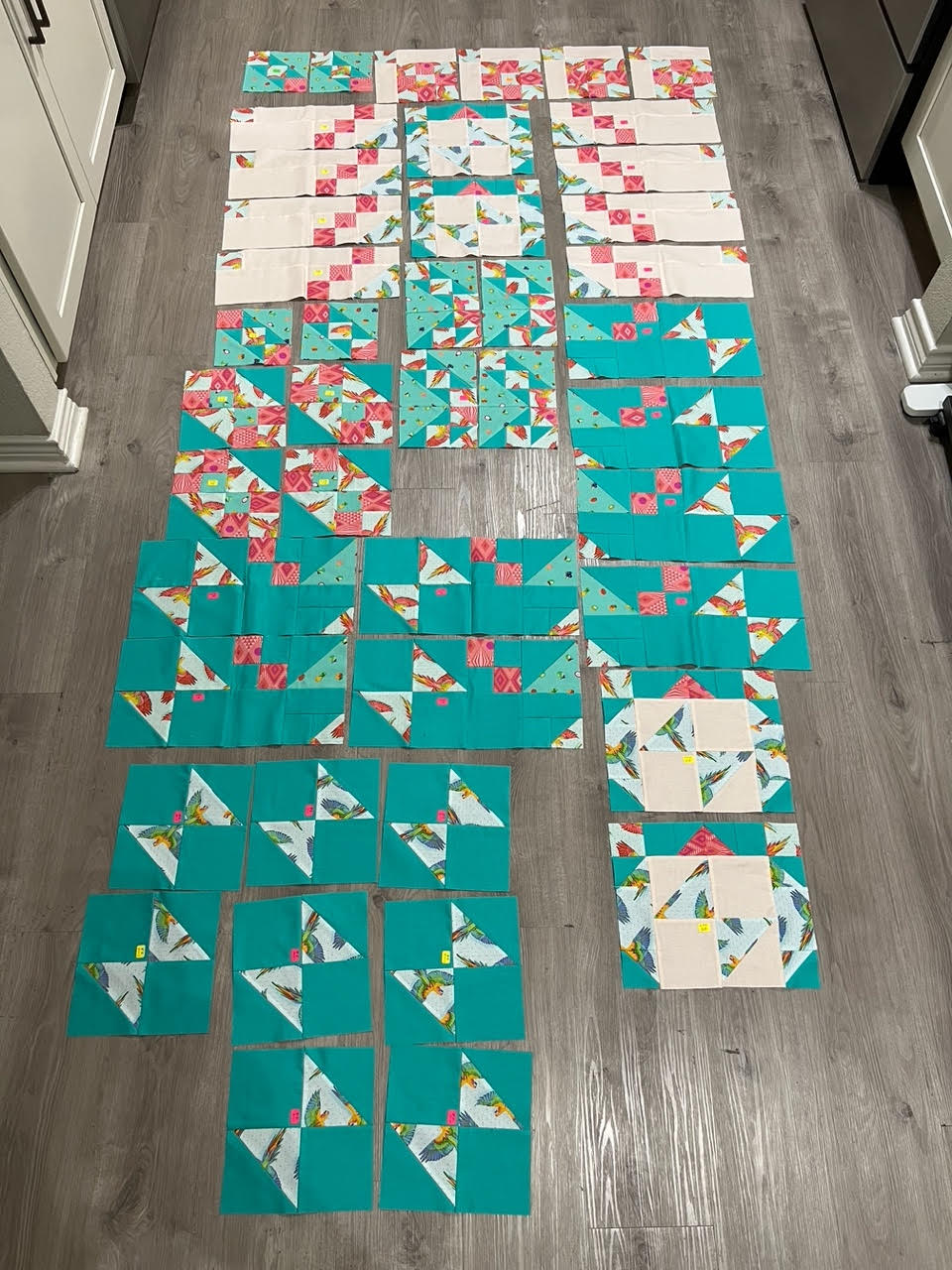 For example, when working on Sew Sweet in the color way Powdered, the most prevalent color was turquoise. I knew I didn't want to add a border that was turquoise, so I moved to the next color, which in this case was pink. A lot of times, PMQs have a color that seems to echo from the center of the quilt outwards. I took a shot in the dark and guessed that the color that might do that in Sew Sweet would be pink. Sure enough when the final quilt came together I had made the right choice. Notice how the pink starts in the center then radiates outwards? Boom! It sets this quilt off.
Something important to remember is no decision you make is a wrong decision. You get to choose what you think works best for your design and as long as it makes you happy that is what matters the most. Even if that is to incorporate a fabric that isn't even in the puzzle mystery quilt. Your art is yours! So take pride and make it your own.
Ian Garland
Off Kilter Crafter
https://www.youtube.com/OffKilterCrafterIan