Posted by Robyn Thomas on 19th Jan 2023
Nothing makes us happier than to find out how much our Puzzle Mystery Quilt truly means to our detectives. This story is one of many we have been told about how the PMQ brings friends and family together.
Meet Martha and Stephanie. Sisters in law who both developed a love for our PMQs and sew together via Zoom once a month. Martha is sewing the Duomo and Navona colorway. Stephanie is sewing two Vittorio colorways for her daughters. Martha took some time to answer a few questions we have about their newest project and how it bonds them together.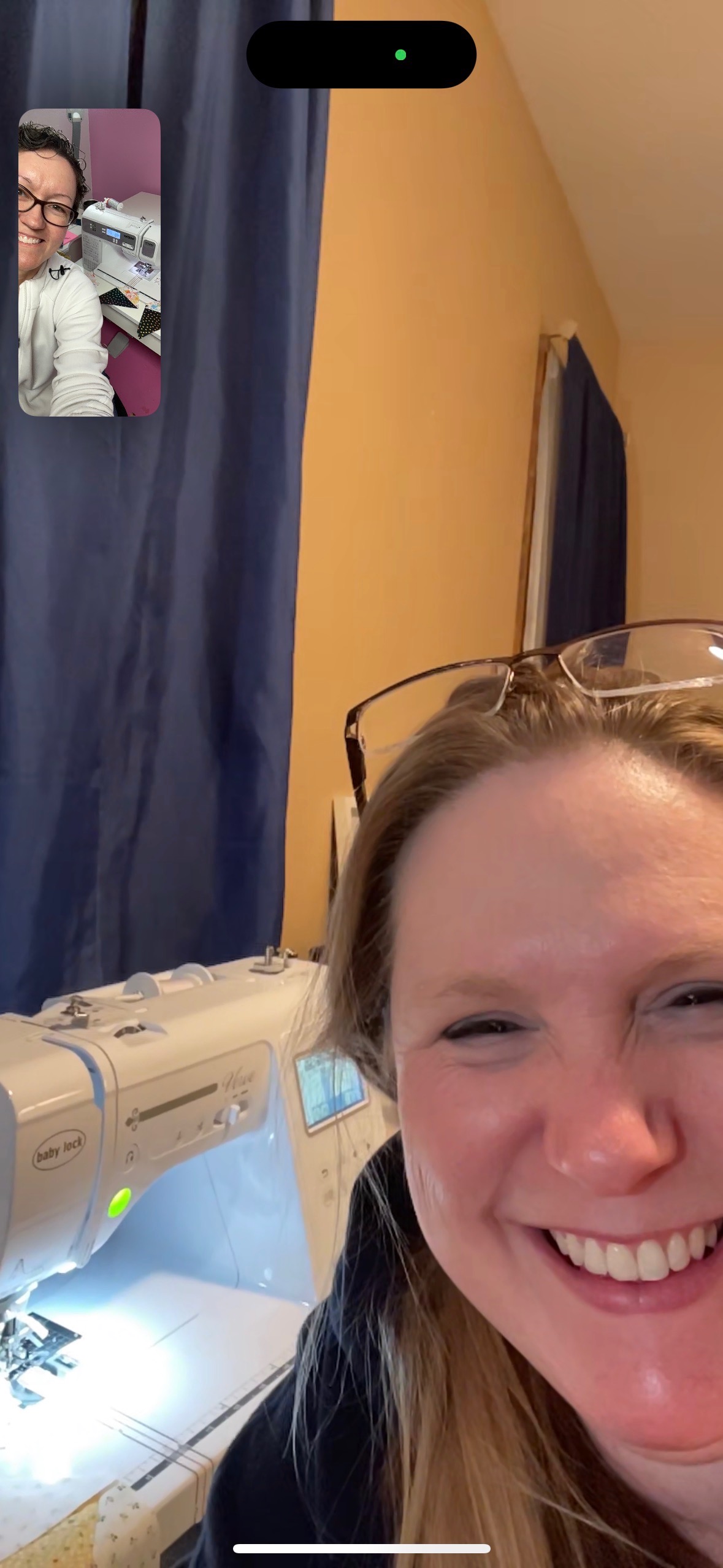 How did you find our Puzzle Mystery Quilts?
Sew Becca! Stephanie and I would set a date on Friday night to listen to Becca on her live stream on YouTube. While we would watch her, we would text each other and have our own conversation going just between two BESTEST SILS! Becca mentioned Cotton Cuts so we did our own research and when we heard about the Piazza PMQ we knew we needed to do it. We love sharing time together, especially working on a quilty project.
Tell me the story of how this collaboration came about.
My SIL watched Sew Becca do your PMQ and thought a monthly project would be a great idea since Sew Becca made her block in no time. Well, she convinced me to sign up for a different BOM that does not come with pre-cut pieces and the first blocks took us hours just to cut. We learned that that type of BOM is for the birds. Wanting to try again, we signed up for the Piazza PMQ and have never looked back! We are able to fly through constructing PMQ blocks, meanwhile the other BOM is taking up space in our sewing rooms waiting for us to retire before coming back to it. Once in a while that BOM speaks to us and asks us "did you forget about me?" Ummmm, yea we "forgot". It's our retirement WIP. We are just planning ahead… yea… good story to go with! HAHA!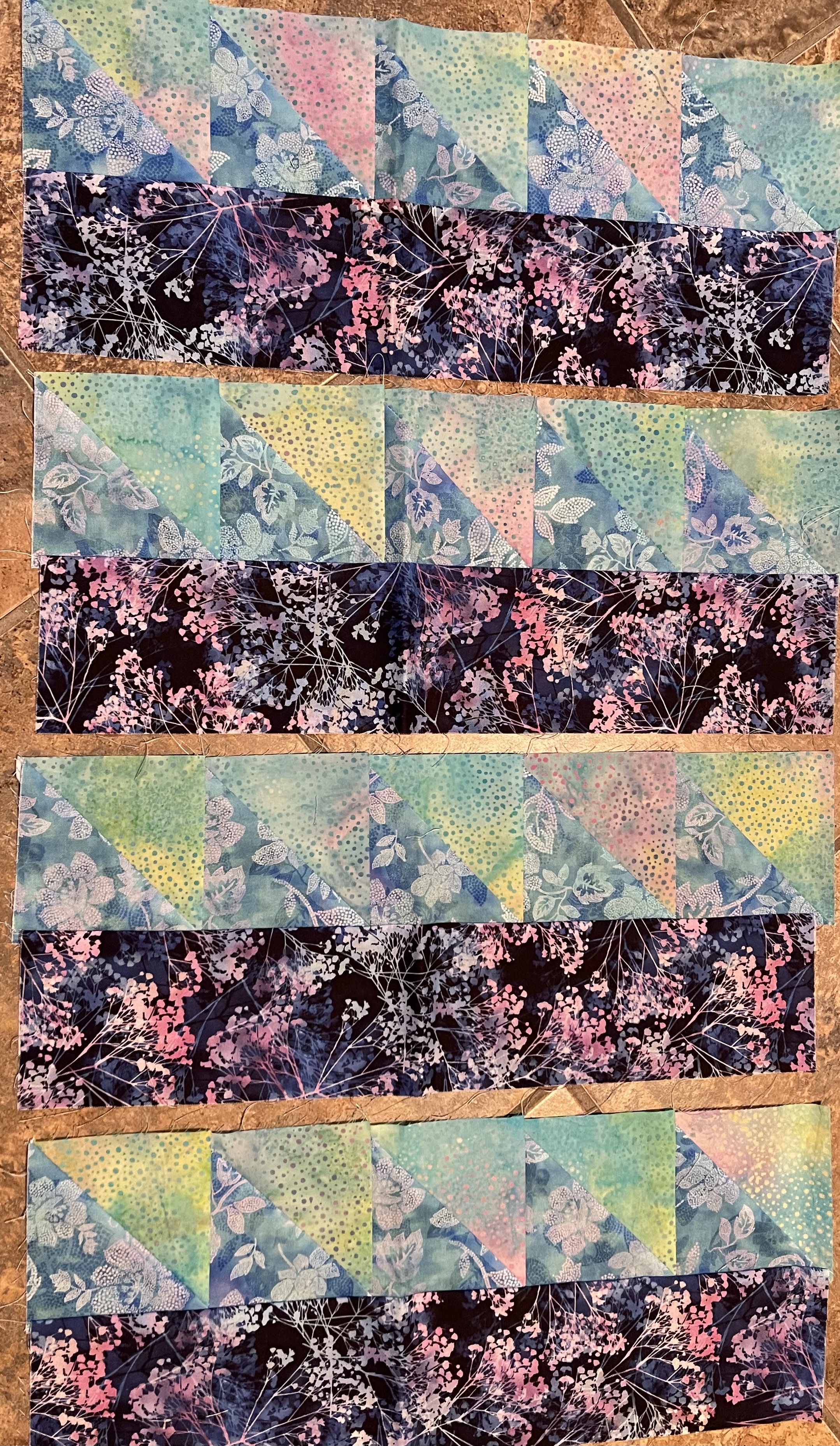 Tell me about both of your sewing backgrounds? Do you sew for fun, how long? Is it part of your job? Or a hobby only?
When I was in junior high school I took a home economics class and we made a small purse. The sewing bug didn't bite me until I was much older and the mom of a little girl. When my aunt passed away, my parents gave me her Kenmore sewing machine and a lot of her fabrics and notions. I began to play around with the machine and made a few placemats and little projects along the way. Fast forward to about a decade later and that little girl I once had was now going off to college and momma needed a hobby. I bought myself a Brother sewing machine and started watching videos on YouTube and learning how to sew better. That's how I started sewing.
My SIL grew up around it. Her grandmother was an avid quilter; piecing quilts by machine but then spending countless hours in the evenings hand quilting each one. My SIL went on to get her BA in costume construction but changed career paths to project management, keeping her passion for sewing alive by taking up quilting herself. However, she doesn't quilt them by hand and is trying to learn how to use her long arm quilting machine for her quilts.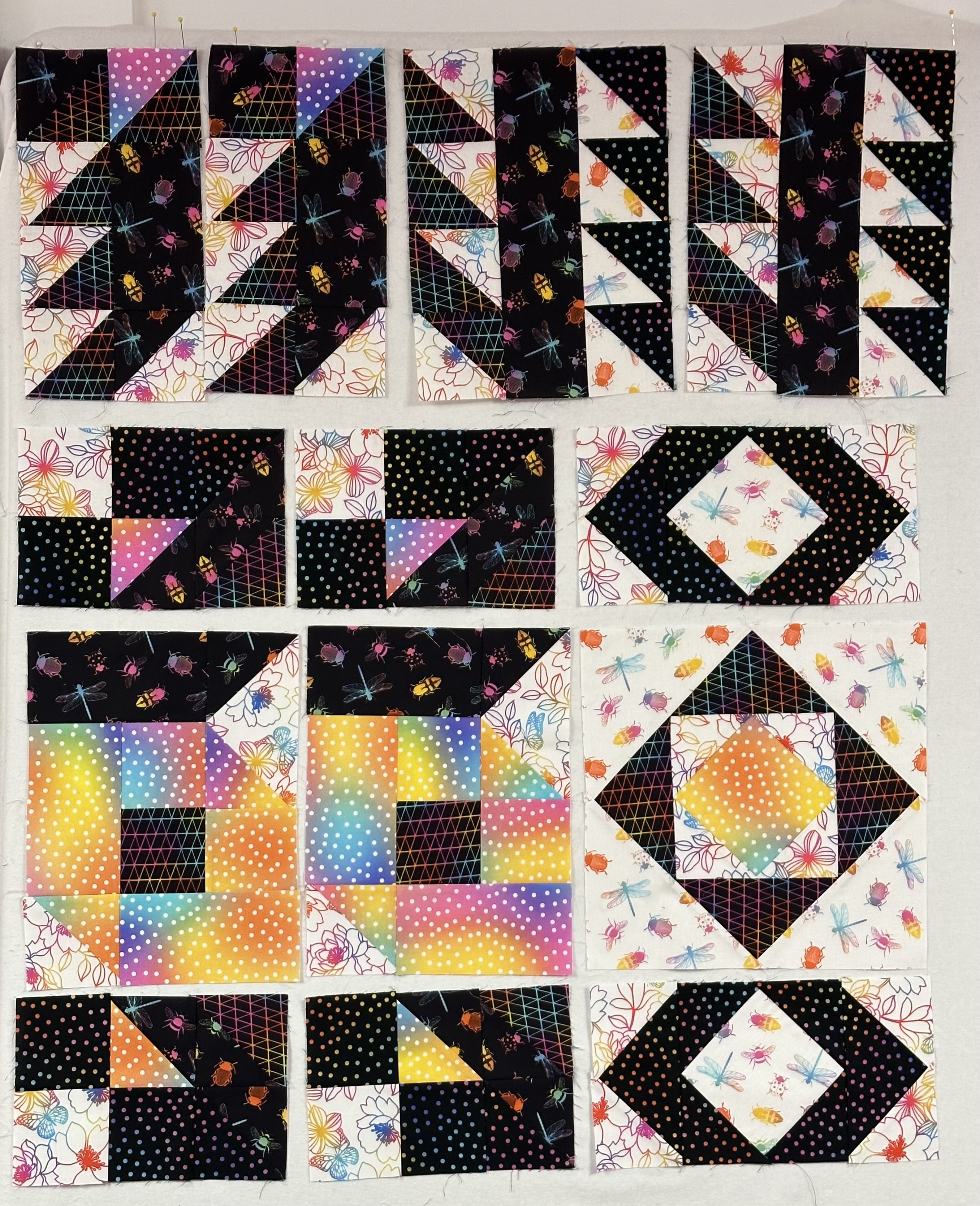 Is this your first time doing a PMQ?
Yes! And definitely not the last! It has been a great way to get projects done since we both work full time and my SIL also has two little girls, so we both appreciate the time saver of not having to cut pieces! We call ourselves spoiled now - one for getting a treat ( a clue) in the mail each month and two for not having to cut fabric!
How did you get the idea to do it together?
It was my SIL. Since we both have a passion for sewing, but live states apart, we wanted to do something "together". My SIL doesn't have any other quilty friends, so we nerd out together about sewing when we sew together. Thanks to COVID, we got very good at electronic communication! There's not a day that goes by that we don't talk about quilting and sewing - it's a part of our lives.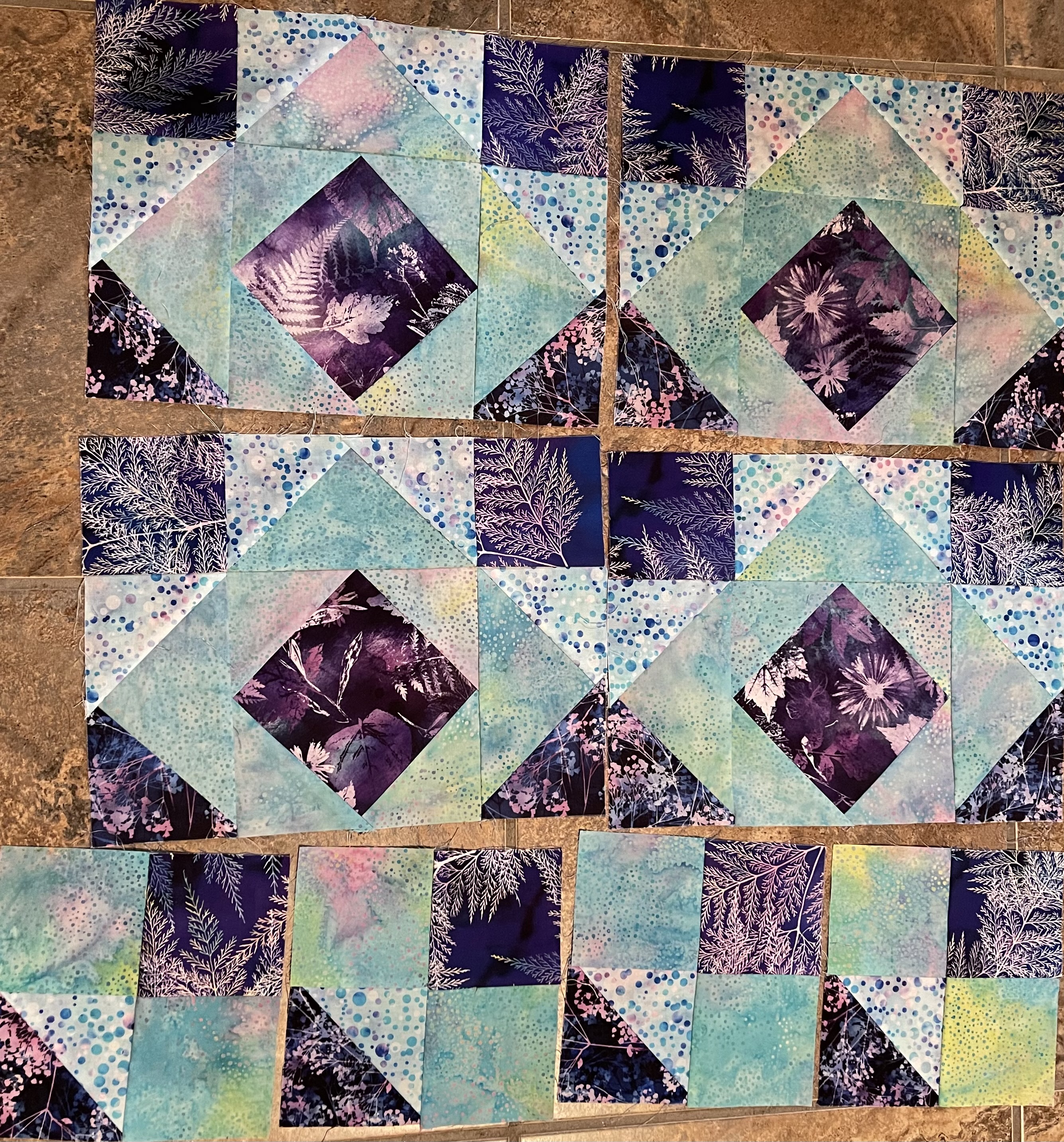 Where do each of you live?
I'm a Florida gal who moved slightly north to Alabama and my SIL lives in Minnesota. I told her I'm only going to visit during a specific three month window because I don't do cold. What would I do with the snow? I can't quilt snow.
Do you have a time and date set when you zoom together and sew?
We try to set a time during the weekend once our clues come in the mail. Right now it's when my nieces are down for their naps and we race to our sewing rooms.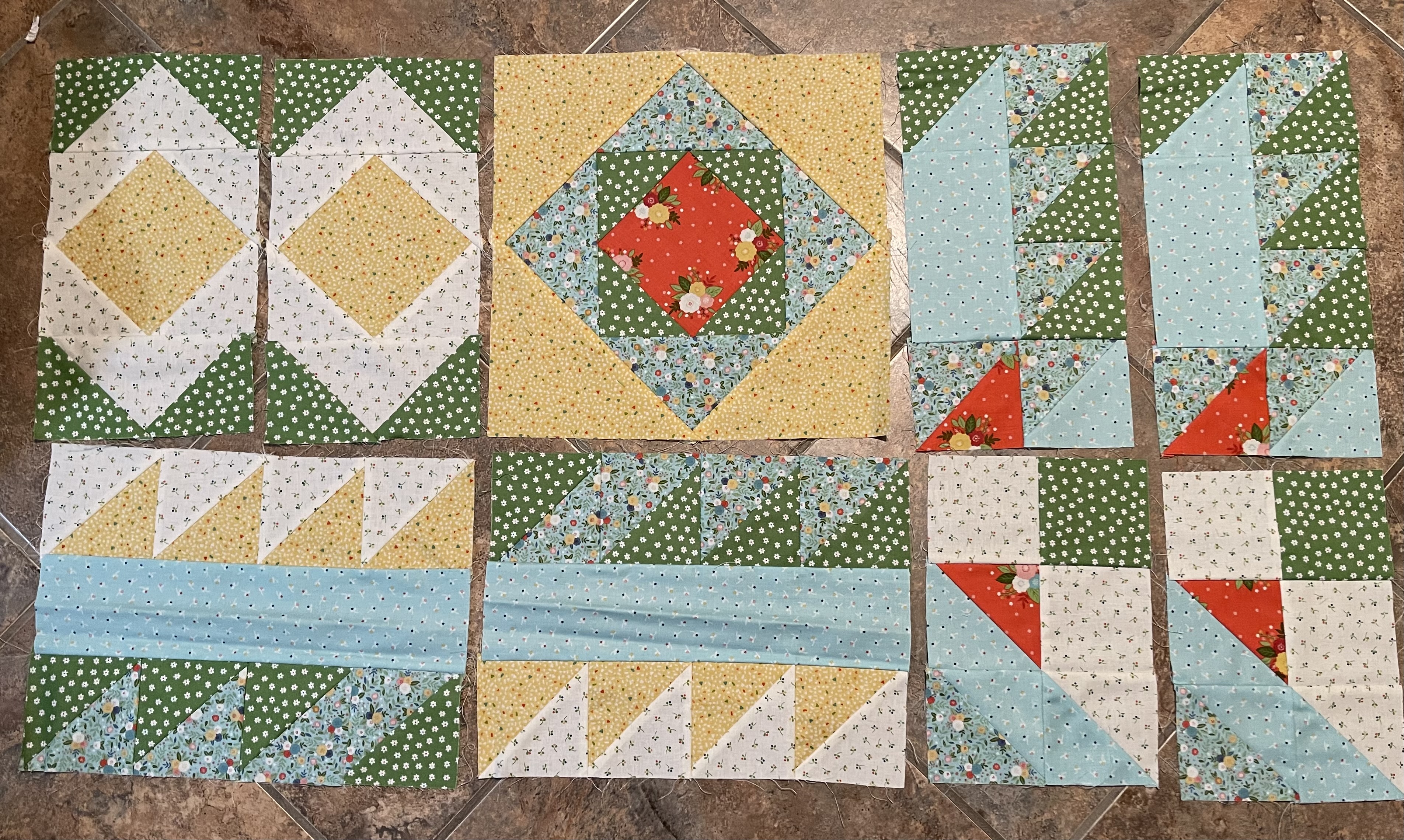 Are you signed up for Village Green? Which colorways are you doing?
I am signed up for the Village Green PMQ and I will be secretly working on the Poppy colorway for my husband. My husband proudly served in the United States Navy for 21 years so this quilt will be a gift for him. It will be easy to work on the clues monthly since they are pre-cut and so time saving. My SIL opted to take a break from adding additional projects to her list but she did really want to do the PMQ again and would have gotten Dahlia. I'm sure she'll join the next one.
Martha is a Cotton Cuts super-fan, and joined the Cotton Cuts family as a Gnome of the Month Ambassador. She has recently made a video on her YouTube channel "Martha's Creative Life" that walks our potential PMQ detectives through how to put together a clue from our Try Before You Buy option.