Hi! It's Kim here, taking over the Cotton Cuts blog for a very special entry. My good friend and business partner, Sheila Christensen, recently published a book and asked me to help spread the word. We know her in the Cotton Cuts family as the "Mystery Quilter" - the talented designer behind our Puzzle Mystery - and I couldn't wait to jump into this project for her. This amazing first book shows Sheila's real talent of creating beautiful masterpieces in easy to follow and straightforward building block fashion, core to her mystery projects and seen on every page here.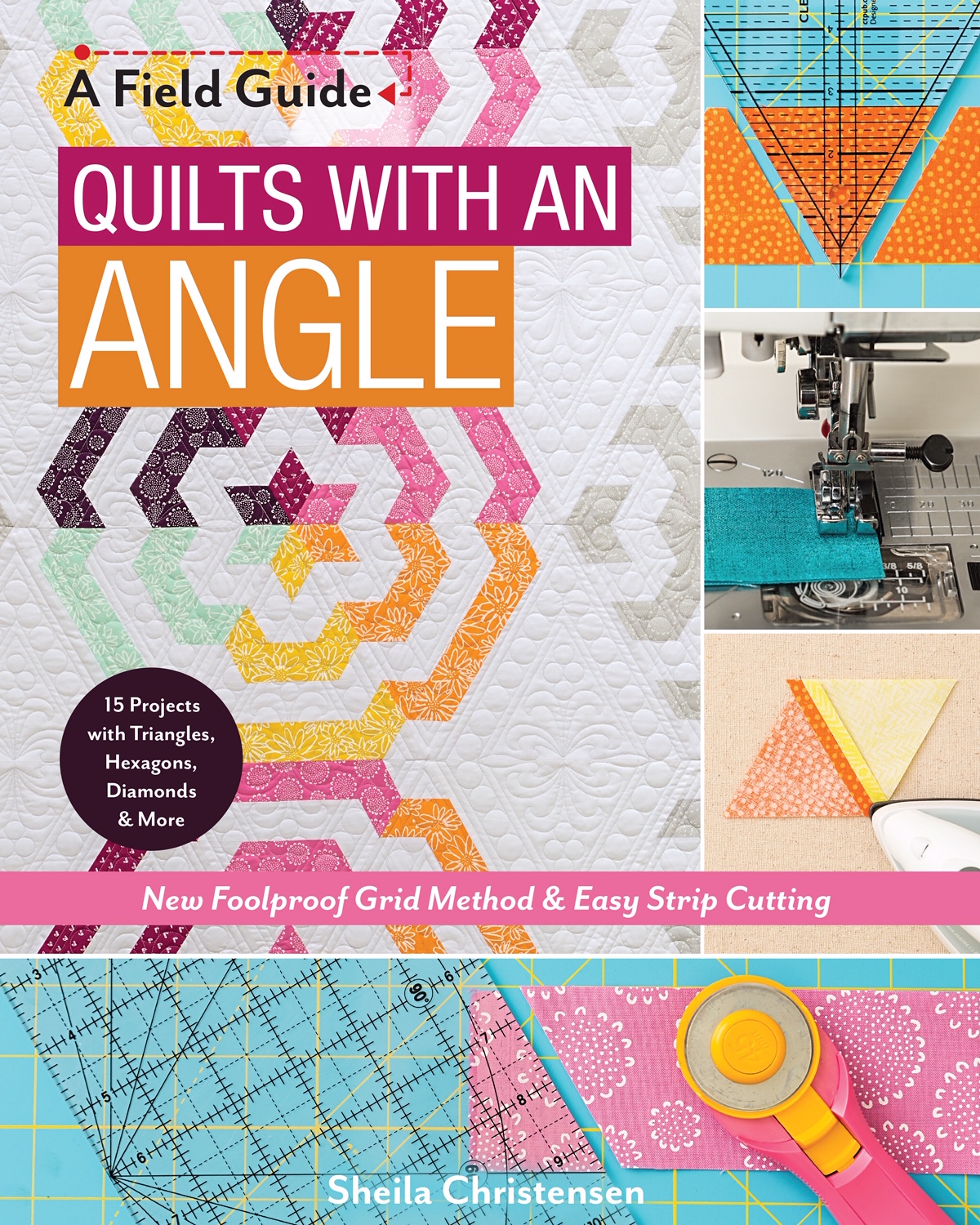 This book oozes beautiful eye candy. I spend a lot of time looking at quilting books and patterns and was blown away by how pretty all of the quilts are in this book. Bright, bright and bright! It was very tough to pick a single project for the blog…and I'm already planning projects 2, 3 and 4 to follow.
I was excited to learn a new technique when I started this project. I tend to keep toward paper piecing or chain stitching blocks. Triangles are something that I've typically sewn on paper because…well, I don't really know why. After reading this book, I was impressed by how easy Sheila made the process. Clear photos, clear dimensions and clear word descriptions - perfect for those that learn in different ways. And she has a special section on fussy cutting, something very near and dear to my heart.
I never doubted what I was cutting - it was so easy to follow. Additionally, she had the perfect amount of tips - from basic tools to use and simple tricks like pressing seams open (something I've never done before and, as they say, there's no going back). Since I'm under the age of 50, I've never used spray starch before. I learned how to use it for this project, and you know what? It wasn't hard to do and made a world of difference on the finished project. Even something as basic as using a leader to keep my fabric from being sucked into my machine - literally, life changing.
I've had one of those 60 degree rulers for a while and never really known how to use it. After reading this book, I've added a new go-to tool that will go with me almost every where I go. How was something so valuable just hanging out in my closet?
This is a picture of my mini version of Shadow Flower, sewn with Tula Pink's All Stars and the brand new Pinkerville. Shadow Flower uses triangles, trapezoids and diamonds as building blocks. I just love the raccoons and wanted this project to highlight those masked eyes.
In total, there are 15 patterns incorporating triangles, hexagons, trapezoids, jewels, diamonds, parallelograms, and strip-pieced blocks. Each skill builds on the next - you want to make the next project to take your skills to the next level. There are also alternate layouts provided with each block. One of the keys to Sheila's sewing of these shapes is that there are NO Y-SEAMS. Everything is strip cut and pieced - easy-peasy.
While recommended, the 60 degree ruler is not required to make these projects. In fact, my ruler was too small for some of the pieces. Instructions were provided for both the triangle ruler and traditional quilting rulers with a cutting mat. I was able to transition seamlessly between the two.
Please forgive my rambling in this post - I'm an engineer and moonlighting as a blogger. I have no doubt my blogger is itching to grab the wheel back from me. :) But please let me know if you have any questions or comments below - this project was so much fun!
QUILTS WITH AN ANGLE BLOG HOPPERS
If you'd like to see more projects and reviews from Quilts with an Angle be sure to check out the following websites on the dates below. Each shop is giving away a free copy of the book, so be sure to check all previous stops as well as plan for the future stops.
WIN A E-COPY OF QUILTS WITH AN ANGLE
To be in the running to win a copy of the E-book, simply sign up for our newsletter below:
I will announce the winner on Instagram on 27th April and will make every effort to contact them. The winner has 3 days to get in touch with me and claim their prize. A new winner will be chosen if the initial winner doesn't make contact. Thanks for stopping by!